Last week, the day after Raising World Changers in a Changing World released, I was standing behind a book table at a women's event. I had just spoken to a roomful of moms.
And I watched each of them, one after another, pick up my book on Raising Grateful Kids until they were sold out (and women were actually fighting over the last ones) and shy away from my new book.
I heard them shrug and say over and over, "Raising world changers, I wish."
Let's be honest: It's much easier to buy a book on how not to have a brat than one on how we should share what we have.
I think we want to change the world. We long to raise kids who will do the same.  But when our kiddos are rocking our world, it's hard to even imagine it.
And sometimes, we're so busy beating ourselves up about how we think we're doing that we feel defeated just by daring to hope it will be get better.
But here's the truth about Raising World Changers: We can't wait until we think we've got it together to begin because that will never happen. We start where we are because sharing what we have helps us get it right.
For my family, we didn't wait to become world changers until we got our act together and overcame all the messiness of life. The only way out is through— saying yes in the middle of our mess–is what revealed our ingratitude and entitlement and helped us change our course.
There's no right way to do this–but when we decided to change the world, we did.
So what does a world-changing family really look like? I can tell you that sometimes it looks like a family who is arguing at dinner and giving up on the devotional reading. Ask me how I know this.
I think it's dangerous to believe our family should be the holiest house on the block. If we buy into this lie, when we fail—and we will fail—succeeding will be even harder. I believe the mark of a family trying to bridge their lives to others is one that loves others well. It's easy to equate mission with action and traveling to the other side of the world, but mission is more than that. Loving others is a way of life; we don't have to squeeze one more event into our busy calendars to live a generous, missional life. It starts with opening our eyes to what's in front of us. We are surrounded by people in need and opportunities to love others: single moms on the soccer team, a friend with a new cancer diagnosis, an elderly neighbor recovering from surgery.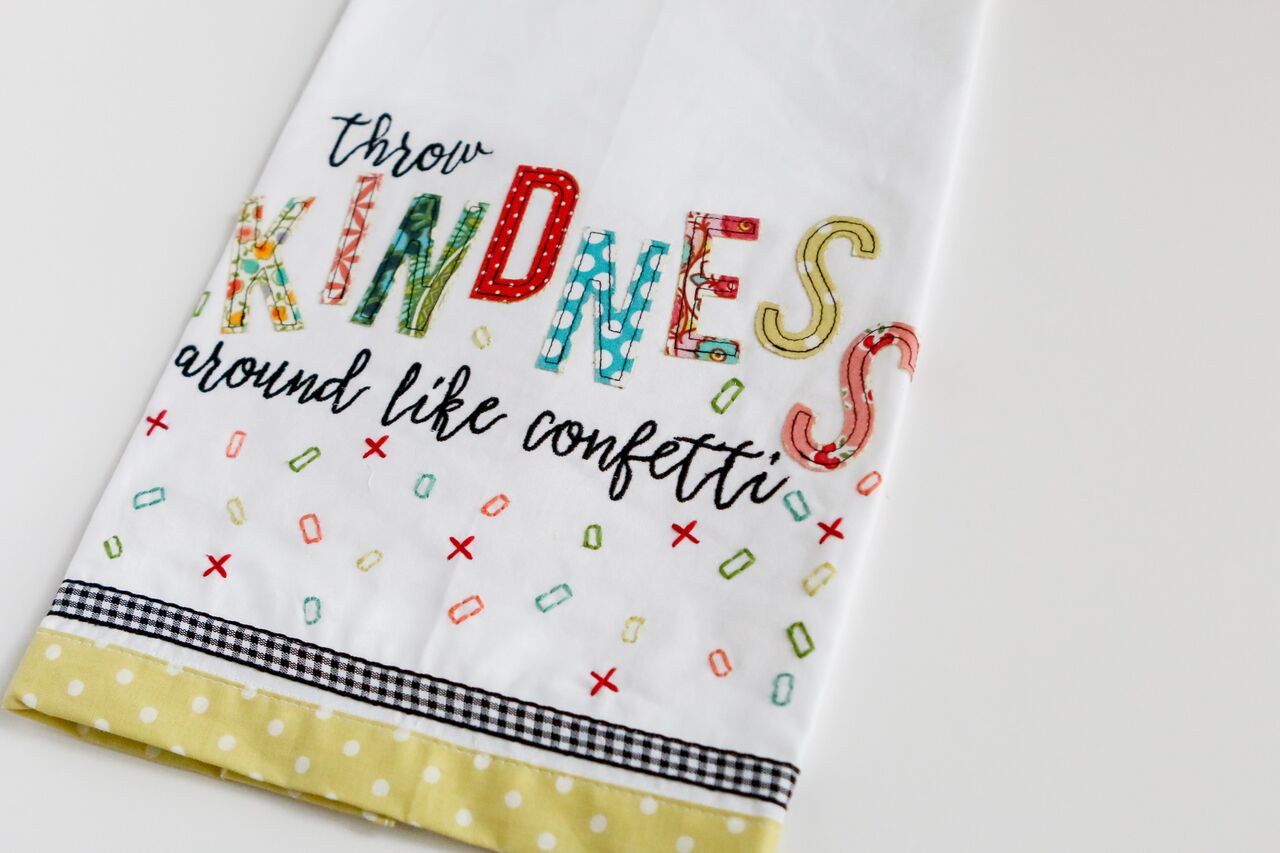 Here are four ways our families can change the world right where we are:
See the people around you. This requires more than just observing people; it means stopping to notice them.
Spot the needs in others' lives. When we take the time to get to know and develop relationships with the people around us, we'll easily recognize needs in their lives.
Scatter kindness. It's easy to care for and live in community with the people we've invested in. We can do this by going out of our way to take them a meal, offer childcare, and so on. This is how we love others well.
Share what you have. When we make this a way of life, it changes everything. It becomes normal for our families to see the needs of others and to find a way to meet them.
So, yeah, go ahead and decide…you don't need a t-shirt or the perfect family. Just a little courage. When you decide to change the world, you do.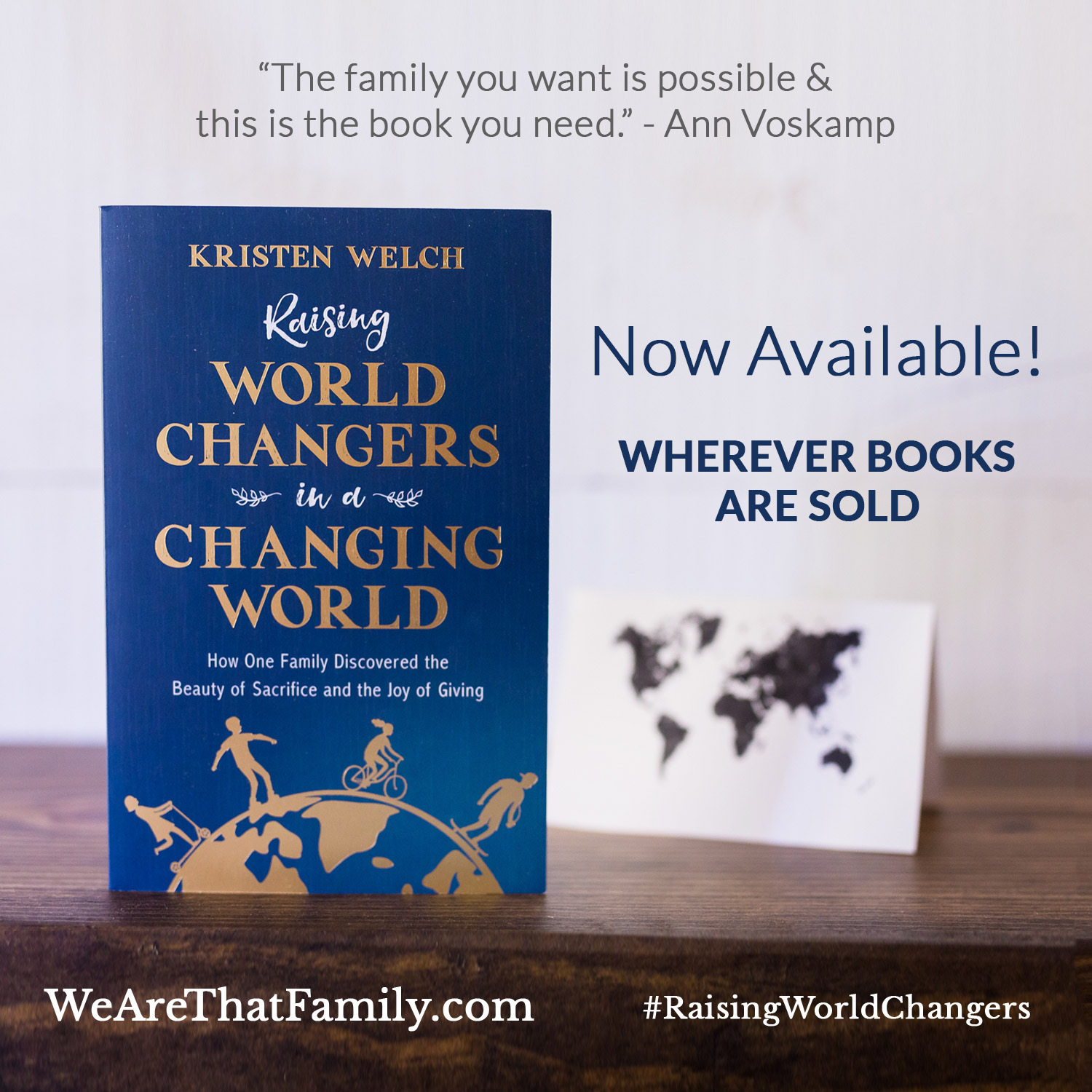 Here's what people are saying about Raising World Changers In A Changing World:
"Stop right now and look away if you're in search of a book that'll simply give you warm-fuzzies and feel like an accomplished rockstar… this isn't that book. No resting on stagnant laurels on Kristen Welch's watch! Sure, it's ripe with inspiration and encouragment, but this incredible book is more a motivational call to action. It's a kick in the proverbial pants, at once compelling, convicting, and challenging. Brace yourself, because Kristen isn't going to pander to you, but will echo Jesus as she asks you to hand over the reigns and give a radical "Yes!" in obedience to the Lord." -Mia W
"If you read only one book this year… please make it this one. I have read all of Kristen's other books and blog posts and have been anxiously awaiting another book of hers to read. This book did not disappoint, I could not put it down." Amazon review
"You can change your lifestyle or you can change a life" I have that quote written in my kitchen. This book isn't going to make you feel like you've failed as a parent, you aren't going to stop reading it because you are overcome with guilt. This book will empower you to to have great discussions with your kids and help them and your self see the world through a different lense. It is beautiful. I can not recommend it enough!" Alan
"This book is challenging and it may even hurt a bit as we come to realize how much we hold onto and how little we give. Yet we often find the greatest joy and satisfaction comes not from how much we own, or earn but in living open handed and in giving. This book is a must read for every parent who desires to raise children who are world changers. But the reality is, this is a book for every parent so they themselves can become a world changer. Change starts with us, within us. If we are going to teach this next generation to be generous, to have compassion, and to make a difference then it is going to need to start with us." Viola