A few people (respectfully) suggested last week that I've been writing about the poor in third world countries to give my readers a guilt trip.
So, I thought it was about time for another one.
[clearing throat]
At first I was a little offended, but then I just felt irritated. You know like that speck of sand in the oyster shell that rubs you the wrong way, but turns into something meaningful? Yeah, that. So, I'm all about the pearl.
I need to talk about what is happening in my heart. If you read my blog pre-Africa, you know that this subject wasn't even on my radar. Now, that the perfect bubble I lived in has popped, I can't pretend I don't know how the rest of the world lives. And more importantly, I can't keep living the same way.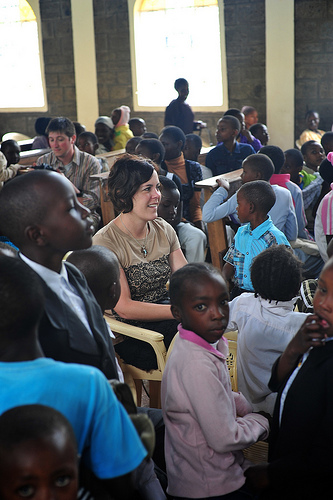 I can't please everyone and I stopped being politically correct a long time ago, so don't expect me to start now.
I'm reading When Helping Hurts: Alleviating Poverty Without Hurting the Poor. . .and Ourselves
. I'm chewing on this profound quote that is painfully true. If it makes you feel guilty, you're not alone.
"North American Christians are simply not doing enough. We are the richest people ever to walk the face of the earth. Period. Yet most of us live as though there is nothing terribly wrong with the world. We attend our kid's soccer games, pursue our careers and take beach vacations while 40% of the world's inhabitants struggle just to eat every day. And in our own backyards, the homeless, those residing in ghettos, and a wave of immigrants live in a world outside the economic and social mainstream of North America."
It's that last part that really gets me: "We do not necessarily need to feel guilty about our wealth. But we do need to get up every morning with a deep sense that something is terribly wrong with the world and yearn and strive to do something about it. There is simply not enough yearning and striving going on."
In my heart, I know there is something terribly wrong with this world.
What am I doing about it?
I don't know what I'm doing. I'm trying to fit back into my life and I'm finding that I don't want to be the same. Sure, I'm still a mom. I still get mad at dirty socks under the bed and I blog weekly about parenting lessons and mishaps.
I just don't want my life to be characterized by The American Dream, racing and working for more, for me. I don't want to teach my kids by default that we live for ourselves, adding God in when it's comfortable, doing for others when it's convenient.
If a movie was made of my life, of your life and it was summarized by this statement, what would it say?
I'm yearning for _____________ and striving to _____________.
You fill in the blanks.
I'm trying to.