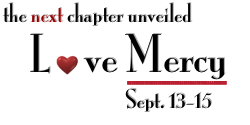 It's been brewing awhile-this mercy rising.
It actually started before I went to Africa with Compassion International in March. Last year in the fall, I wanted to share my marriage testimony. I was afraid, but I wanted to pull away the mask and see if it helped people. I told my husband that I wanted to use my blog for God.
And so I did, I told the story on my 15th wedding anniversary over at (in)Courage. From that, a deeply private and emotional series was born.  My soul was stirred by the hundreds of private emails we received from hurting wives and husbands.
The Do-It-For-Others projects were born from this idea of helping people. Well, that and the simple fact that I was actually spending a lot of time and money trying to come up with new DIY home decor projects for weekly posts.
It was a quiet epiphany for me: I can spend the same time and money helping others (instead of doing for myself) and ask my blog readers to help me.
And then, I went to Africa. I've written so much about this trip. You've come along side me, sponsored kids, supported projects, and shared your hearts. Days past and the fog of jet lag and guilt faded, but I couldn't shake Africa. It was redeeming for me and I knew I would never be the same. And that was okay, because Africa made me better.
During this time, Maureen (you can read about her here and here, in case you're catching up) and I were emailing and sending each other Facebook messages, getting to know each other better and dreaming of meeting when she came to America for the summer to speak at Student Life camps.
I read this disturbing article from CNN right after my trip about the rampant illegal backstreet abortions happening in the very place we visited. I was so burdened for these young girls, many of whom were trading sex for food. I laid awake, night after night thinking of these girls I'd met, and of the ones who died in a dark alley from terrible infections, I thought of my daughters asleep, fed and safe in their own beds.
I thought of Maureen, my only real connection with Africa and I emailed her the CNN story and asked if it was true and if she knew of anyone helping these girls. She replied a couple of days later: yes, it's a bad problem in Kenya and no, I don't know of anyone helping them.
We agreed to pray for these girls and for the unborn babies.

Before my trip, we thought we would adopt. It seemed like a natural decision (one I think every Christian should consider), but experiencing Africa changed my heart. I knew that adoption would change and save the life of one child, but I wanted to help the people of Africa. It was a crazy, irrational thought, really. One I kept to myself.
Until one night, a month or so after my trip, my hubby and I were asking hard questions. Should we pick an agency and start the adoption process? How would we come up with $30,000? My hubby broached the subject first, "It just doesn't feel right. There's something that's stopping me." I was relieved and said, "Me, too." And then I said it, "I don't know what we should do and I don't know if I'll ever be the same person, but I do know what feels right: returning to Africa."
In the foyer of our home, my husband wrapped his arms around me and we cried. We didn't even know what it meant, but we were on the same page and we knew it meant something big.
We decided to pray and fast and doors began to open. After weeks and months, the same doors closed.
And then, out of nowhere, I got an email from Maureen that changed everything.
Part II continued tomorrow….
[I'm so excited (and crazy nervous) to reveal what God has called us to. But it's a long story and I won't be finished telling it until tomorrow. If you can't wait, you can click here].