I'm still wiping sleep from my eyes and stuttering in steps of exhaustion.
The last few days have been long, and short and I've grown tired of hearing my own voice.
But I've never felt more alive.
I've just returned from Relevant, a Christian Blogging Conference, a first of its kind.
Know this: the weekend had very little to do with blogging.
Blogging at it's core is egocentric: It's about me:  my opinions, my thoughts, my life, and comments about my words on your screen.
I discovered in this time of beautiful connection, with laptop stored away, that I'm sick of me.
When I peel back the corner of my heart and I lay it bare, I see dark corners seeking affirmation from others, a need to fit in, to grow this space, to be known.
Like most in this online realm, I want to take my blog to the next level.
And I can.
How do we? "By going lower. By making our platform an alter." –Ann Voskamp.
I'm still processing and on my knees in reflection, asking, waiting. Wanting more.
Of Him.
And isn't that what it's all about? This world is temporal. Our lives—how we live them, the glory we bring to Him—that is eternal.
I've left a blogging conference craving God. I've left behind the desire to elevate myself, to seek the approval of friends and foes. I can't find my aspiration to be the best or the biggest. I've lost the desire to compete and climb the ladder of success.
I arrived at the conference, physically and emotionally empty. Deplete of energy and desire. Weary from all the doing, checking one more thing from my list, going to speak on being relevant, but feeling like I had nothing left to give.
Alone. Misunderstood. Accused of being brave, feeling so scared, my very breath hard to catch in the middle of the night, computer screen dark, burden heavy.
How can I give away what I don't possess?
But I met God at Relevant. He showed up in the hugs of women I'd never met. He met me in the quiet. He was there in rush of people and the urging of words that poured from my lips.
I left with a heart so full it doesn't quite fit in my chest.
I don't know what's in your heart today. I write these words hoping they find a landing spot. But understand that I don't just write them for you. I write them for me. "Story is the way the Spirit of God can bind up our wounds. When these words find their mark, God heals two hearts-yours and mine." –Ann Voskamp.
When you click away from my words and heart spilled onto this screen, I want you to run to Him.
I'll meet you there.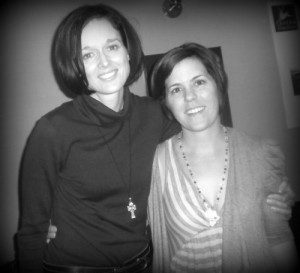 meeting Ann