It's a colorful book, with bright pictures and engaging stories.
It's a children's Bible for ages 4-7.
And I can't put it down.
I brought it home for my little girl to hold close to her heart. But the words in the The Jesus Storybook Bible
have made their way into mine. I am captured.
Every story, from Adam and Eve to Saul, from Noah to the prodigal son, whispers the name of Jesus. The author follows The Author's lead and every story points back or ties in the work of Jesus Christ. I have learned so much and it's opened the Word of God up to me.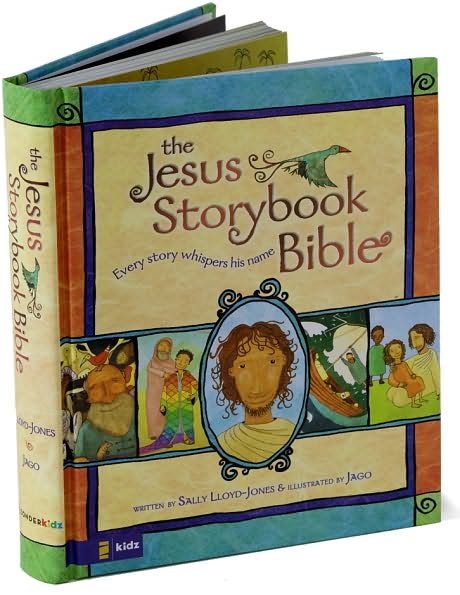 I cried when I read it the first time. I use it for devotions. I trade gummy bears with my little girl to borrow it.
"The Bible is most of all a Story. It's an adventure story about a young Hero who comes from a far counry to win back his lost reasure. It's a love story about a brave Prince who leaves his palace, his throne–everything–to rescue the one he loves. It's like the most wonderful of fairy tales that has come true in real life!

You see, the best thing about this Story is –it's true.

There are lots of stories in the Bible, but all the stories are telling one Big Story. The Story of how God loves his children and comes to rescue them.

It takes the whole Bible to tell this Story. And at the center of the Story, there is a baby. Every Story in the Bible whispers his name. He is like the missing piece in a puzzle–the piece that makes all the other pieces fit together, and suddenly you can see a beautiful picture."
For me, this is more than a book about The Bible. It's a reminder that my life, each chapter, every day that creates my story, should whisper His name. When my life is read, I want the pages to point people in the direction of The One who matters most.
Can you hear it? The whispering….