I survived 48 hours in a hotel room with four girls, five including myself- quite an achievement for this introvert.
It was like a high school sleepover, only we're our mother's age, plus there was some snoring going on. I slept with a girl I met on the Internet (if you would have predicted that ten years ago, I would have laughed my head off), but we did line fluffy pillows between us…to prevent any nocturnal spooning or leg crossover.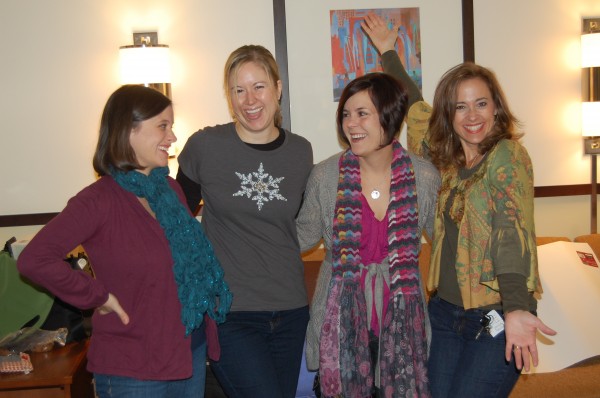 It was fun and I am tired. I also have no voice. A bonus for my kids. It was good to have a break from my spinning plate routine-juggling The Mercy House, my family of five and looming Christmas. I came home with a lighter burden.
In other news, my tree spins. We decided to simplify our Christmas decorations this year. I invited a couple of newly married girls over to dig thru my SEVEN boxes of decor. I now have two. Lighter. Better.
But since I haven't reached perfection. I bought a rotating Christmas tree stand. I was really excited to decorate the tree.
Which means I had to decorate the back of my tree. Which means I had to use ALL the ornaments from the last 16 years of marriage. Which means there are a lot of paper handprints on my tree. Which also means we used all my hubby's childhood ornaments. Which means that he read the date on the bottom of each one. Which made my kids want to touch said special ornaments. Which means three were broken the first day. Which means I may be calling my newly married friends to get some of those Christmas ornaments back.
My kids wanted to decorate it while it was rotating-I had my doubts about the wisdom of this decision…it went pretty well, except for the few times my kids were trying to hang an ornament on a moving branch they ended up stuck behind the tree. That can really frighten a kid.
[Riveting 23 second video] Our Christmas Tree 2010
After thirty minutes, the tree wasn't the only thing spinning.
I love Christmas, especially with an illuminated oscillating timber.