I love making music with these people.
They talk in rhythm, whine in crescendo and love in melody.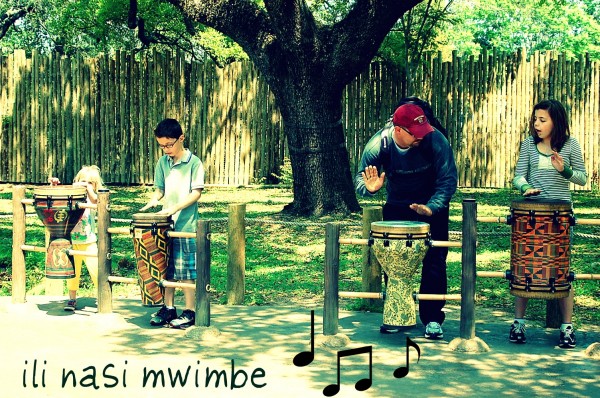 A little more than a year ago, they waved their mom/wife off to Africa.
They welcomed a stranger at the airport with small gifts she asked them to return.
They quietly watched her, never pressing, silently grieving along side her, sharing her pain of knowing.
They stepped into her new normal without complaint, never missing a beat. The rhythm becoming their own.
They sacrifice for a country they've never seen. They long for a people they do not know.  They prepare for a life-changing journey they cannot imagine.
It will be hard, uncomfortable, foreign.
They sing with me.
And you—my friends stretching across the globe with wireless cords connecting us—you trusted my song.
Can you hear it?
It is not a single note with a lone soloist, it is a mighty chorus of a mercy-loving choir.
I am preparing to return to Africa. This time, they are coming with me.
I hope you will too…..
ili nasi mwimbe
…so that you may sing with us….
*picture from the Houston Zoo's African Exhibit
Three week Itinerary in Kenya: Unpack and organize 800 pounds of donations, Dedication ceremony of home, board meeting, staff development, implementing the sustainable skills program, setting up online accounting program/training, creating homeschool station (explaining it) and partnerships with other local organizations (maternity clinic in heart of the slum, Crisis Pregnancy of Kenya, Mattaw Children's Village, Made in the Streets (potential)), as well as visit with the local church, hospital and Compassion International of Kenya. Plus, my hubby will be preaching in a village church and we'll be purchasing a vehicle for the maternity home!
Help us prepare:
Please pray for endurance: We have a lot to accomplish before our trip (while both working other jobs).
Please pray for safety and health for us, our children and my mom (who will be teaching skills and helping with the kids) while in Africa.
Please pray for wisdom and guidance- (um, we've never done this before!)
Please pray that our 18+ bags of supplies will go unnoticed through customs.
Please mark the dates on your calendar: June 10-July 3, 2011, so you can follow the journey via periodic updates here.