UPDATED WITH WINNERS:  Congrats to Ingrid (comment 16) and Deborah (comment 89)
He was on his way home from work.
I was stirring soup in the pot, holding the phone between neck and shoulder, stepping over my youngest and her "spy doll center" under my feet.
You know the normal mom stuff.
We were talking about nothing and everything. Not a day goes by that he doesn't call me. Sometimes we just enjoy the silence on the other end. Sometimes the call is about connecting, not communicating. But not in a gross way. We just like each other. A lot.
He asked me to hold. And then I heard the muffled, "here you go, I have an extra bottle of water. Oh, wait. I also have a blanket in my car. Your welcome. Stay warm."
And then he was back to me, as if nothing happened.
"What was that about?" I asked.
"Oh, nothing. I just saw a homeless person and remembered I had that blanket from the park in the trunk. I hope it okay. It's about to get cold," he said guiltily.
He sees a need, meets it, and then pushes it off like it was nothing.
He doesn't give to be seen. He doesn't tell of his generosity. He does it because that's the kind of man I married.
We've been together a long time. We know each other very well.
And yet, he surprises me every day, inspires me to live for others and challenges me to do things that go unnoticed.
I'm a better woman, mother, wife because of him.
And that's why I own enough of these for almost every day of the week. I want the world to know that I love my husband. I want people to know he rocks.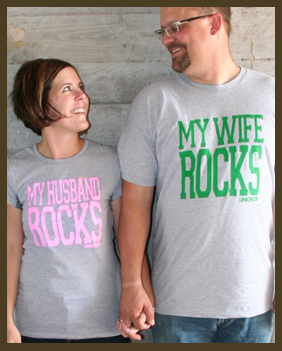 I want them to know the kind of man I married.
Today, Union28 wants you to proclaim your love for your spouse. They are giving away TWO of these cute long sleeve shirts!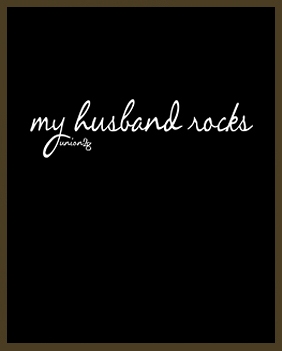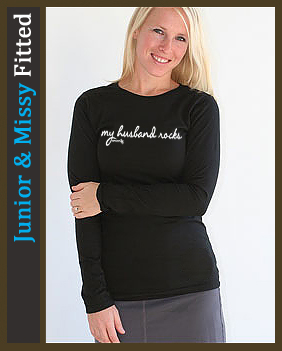 Tell me why your hubby (or wife) rocks and what shirt you'd proudly wear!
This giveaway ends Thursday.