Dear Mr. Welch,
I think about the yellowing stack of letters tied with a shoestring hidden from our children and nosey people, the letters that still bring a red blush to my cheeks.
Remember our hot words on cool paper? We were so young, so far apart from each other, but words brought us together. Words created all of this (wide-arm gesturing over the piles of laundry and floating dust bunnies). We fell deeply, madly in love over letters scratched out while my first grade class was at recess.
It was the season I went from Ms. Clark to Mrs. Welch over the Christmas break, now more than 17 years ago.
It's always been easier for me to use words, written, typed, unspoken. And then whispered later.
I'm so glad we're taking the time to write letters to each other. I find it very attractive to discover you hunched over with pen in hand.
There's just something about a letter. You've made that a special, treasured gift in our home and I thank you for it. I look forward to that crawling red blush again.
Love,
Mrs. Welch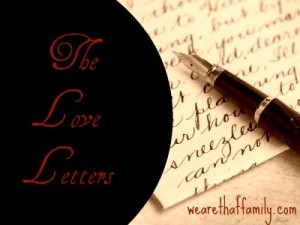 My hubby and I are writing love letters.  You should join in, too. It's one of the best ways to celebrate hot monogamy!
Ideas for Writing Your Spouse Love Letters:
Set up a special email account that's just for the two of you
Send her the emails or just keep them in draft and show her on an anniversary
Use special stationary that's just for your love letters
Give him/her a special box to store the letters in
Be positive in your letters
Make the delivery fun and creative (scavenger hunt, stamp and mail them, put an ad in the classified section, etc)
You don't have to write all the time, but make the time you write about special
Need more ideas? Here are 28 Creative Love Letter Ideas. Do you write to your spouse?