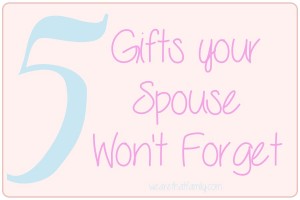 When I was 19 year old freshman in college, I TWIRP'ED (The. Woman. Is. Required. To. Pay) a guy. We were friends, but I liked him a whole lot. There was a group of us who played Spades and so I took a deck of cards and creatively reconstructed them to be an invitation on our first date.
I took him two-stepping. I didn't know how to dance, but he did. I believe that's called manipulation.
That date was the beginning of a deep and abiding friendship for years to come. We ended up dating each other's best friends and didn't realize we were in love until 3 years later.
I married that guy.
I love that memory. "The heart of marriage is memories." -Bill Cosby
You know what our spouses want tomorrow? They want us. Make a memory!
1. Some Time Together: Carving out date night time is always a challenge. Some times we just lock our door and don't answer it. Last week one of our kids figured out the old butter knife door unlocking trick. My hubby high-tailed it to Home Depot and now we have a key. Time together  is always a valued gift. 30 FREE Romantic Printable Paper Craft Ideas

2. Something Handmade: He still has that deck of cards (swoon). Since my hubby is diabetic, making him a sugar-free dessert is always appreciated. Wanna give your spouse something sweet?  Fun Free Valentine Treat Printable

3. Something Sentimental: We like to give mushy cards and write each other letters. I might just pull out our old love notes and read them to him deep into the night. Free Valentine Stationary for the Love Note you need to write

4. Something They Love (but aren't expecting from you): This is the hardest gift to give, but I love when I'm able to surprise my husband. What does your mate want to pursue but hasn't due to time or money? What small gift can you give to encourage that dream in them?  Free Printable Coupons for Your Valentine

5. Something to Remember: Make a new memory, try something new, do something unexpected. Some of our best moments in our nearly 20 year marriage are the small decisions to try something we haven't. Beautiful Free Printable Card to write a memory for your Valentine.
 What works for you?