My kids generally get money twice a year:  birthdays and Christmas from extended family and friends.
The rest of the time, they want it from me. Go figure.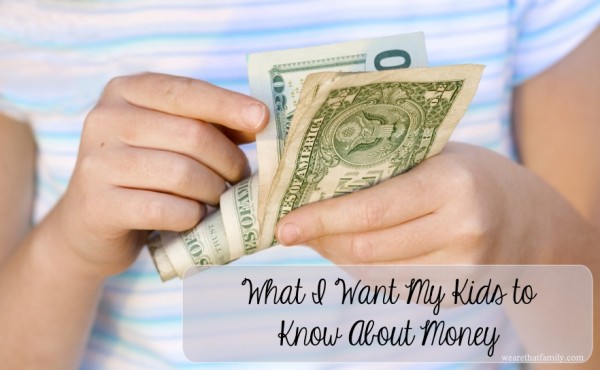 We are doing our best to raise grateful kids in an entitled world. Kids who understand the difference between needs and wants, know how to save a buck, live frugally and have the means to be generous when the opportunity presents itself. It's tough in a cultural that thrives on instant gratification, overspending and frankly, debt.
When my husband and I first married, we lived in an apartment. Practically unheard of in our society that pressures newlyweds to build a home, borrow a mortgage and outfit it with a Pottery Barn catalog. My first pedicure was 4 days before I birthed my second child. I was 30 years old. It's a bi-weekly visit for many little girls in our country and don't even get me started on hair highlights, fake nails and $100 jeans for teens. I'm not saying these things are wrong, but I do think it's dangerous territory to buy what we can't afford  or too much of what we can afford and pass this easy finance along to our children.
Even without allowance or iPhones or the "you can have whatever you want" parenting philosophy, we noticed our children were constantly asking for more stuff. I realized they didn't understand the importance of a budget, the value of a dollar or the crucial art of savings–because we had never taught them.
After listening to a podcast on Focus on the Family by guest speak Mary Hunt, founder of Debt-Proof Living, talk about her book Raising Financially Confident Kids
, I knew we needed to make some changes. Mary is a hardcore budgeter and financial planner. We are neither, but at the beginning of the summer, we began what I will call a Light version of her suggestions as an experiment.
I'm amazed at the results and will be digging into more of her suggestions in the book.
This is what we did (Mary's plan is somewhat different, but we based ours on her thoughts and then did what worked for us):
At the beginning of every  month, we give our children a lump sum of money based on their age. We stagger ours from the youngest to the oldest. (Lump sum sounds like way more than it is, but I think you have to figure out what will work for your family and budget. Mary Hunt suggests monitoring what you spend on each child for months, so you'll have a clear idea what the amount should be. It's more than you think it will be). We didn't do that, we allotted them what we felt like was enough, not too much based on our monthly budget.
We have chores in our house. My kids check the chart to see who is helping with dinner, who is cleaning up, who is responsible for not letting our pets die of hunger and we all pitch in on household and yard duties. This is expected and non-negotiable. We don't call the money we give them allowance, it's more of a salary because we all work in the house.
The deal: My husband and I pay for all of their needs.
And our kids use their salary to pay for their wants.
Defining needs with your kids is an important conversation (and oh, so fun, convincing your daughter she doesn't need every item on the hair aisle). This is a new pair of school shoes, new jeans if they need them, haircuts, music lessons, etc.  This is not the latest video game, toy, cute top at the mall or latest technology for my son's archery equipment.
Oh my. This has rocked everyone's world–in a good way!
From watching one of my children spend every dime and then realize THAT WAS IT for the month to watching another save more than I thought possible, it's been a journey of education in teaching our children how to handle money.
Here's what I've learned from this experiment so far:
It's easier for my kids to spend my money than their money. 

It's really made my children think before they spend. I've watched them return something to the shelf numerous times after they realized they would need to use their money.
It's reduced all the small "junk toys" that are a temptation.
It's teaching them the value of a dollar.
It's teaching them to save money. My son has way more money in his wallet than I do right now!
It's significantly reduced the "gimme gimmes" that were common on shopping trips.
It's reminding them the difference between wants and needs.
It is teaching my kids about saving money for something they really want rather than spending it on immediate pleasures.
It enforces the practice of not letting our kids "borrow" money from us.
It encouraged my kids to want to give money away to others. I love this! My son is dreaming of sponsoring his own child.
It has my kids talking about opening their own savings account.
It has made them more responsible. (Right off the bat, one of my kids lost their money in their room and it went missing for an entire month. That's one way to save!)
This concept works amazing on trips and vacations also. We gave our kids a small amount of money when we went to the beach this summer. One blew the whole thing on a pricey shirt, one saved it and one got a handful of trinkets. Everyone was happy and we stayed in our budget.
In Raising Financially Confident Kids
, Mary mentions that as kids get older, their "salary" changes and also encourages the concept of giving 10% and saving 10%. Now that we've decided to make our experiment a normal part of our home, we have added this (I wish I had from Day 1, but I hadn't gotten to that part in the book).
I'm excited to watch my kids grasp the power of saving money and the beauty of giving it away.