It's my story of saying yes to God–it's imperfect, it's soul-splitting, it's funny (there might be a scary picture of me in the book holding a doll while also wearing an afro. So there's that).
It's the broken and the put-back-together story of my life. My yes to God.
I've spilled out the chapters on these pages- from the gut-wrenching shattering of my marriage to the hard hard days of motherhood to the sheer fear and unspeakable joy of wild obedience in my mess.
With every word, I tasted healing and I wrote it so you might, too.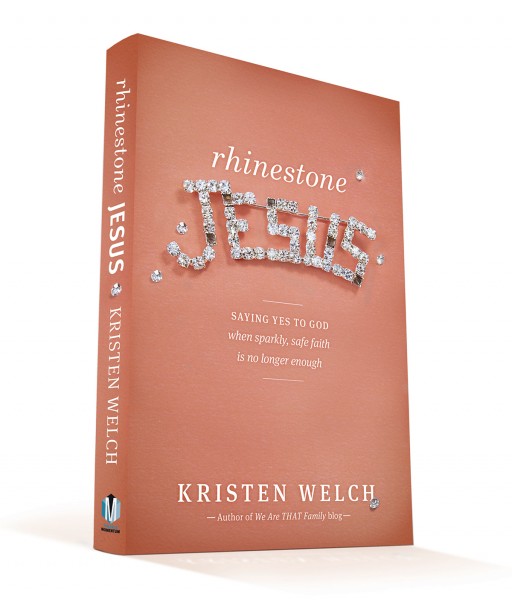 There are also sections on practical, intentional living that will inspire you to make every day matter with your family.
Several months ago on my Facebook page, we were discussing raising our children intentionally and I asked how many families had some sort of devotion time or read the Bible together. There were varying responses, but the overwhelming consensus was "Help, I don't know where to start, what to read or how to keep the kids at the table."
And because I've been there (and still am), I wanted to provide a practical, tangible way to get our families around the table to break holy Bread together and so I wrote a companion ebook: Saying Yes to God As a Family: 30 Lessons for the Table from Rhinestone Jesus
And today, if you pre-order my new book before it's May 1 release, you get the ebook and  some pretty great thank you gifts for free:
These 30 lessons can be done in 30 days or 90. There's no pressure in this easy-to-use guide that encourages family togetherness, conversation, connection and fun around the table.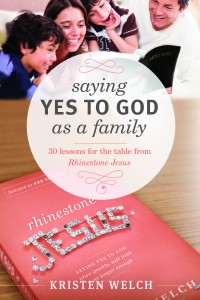 It's designed to be read on a mobile device or printed into cute colorful cue cards. We've been going through the ebook  for several weeks: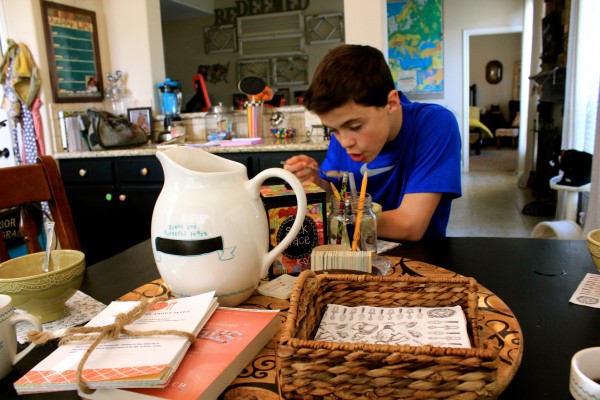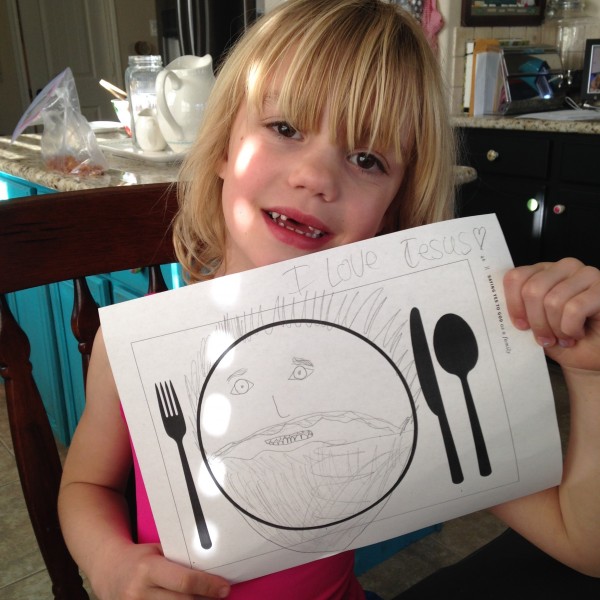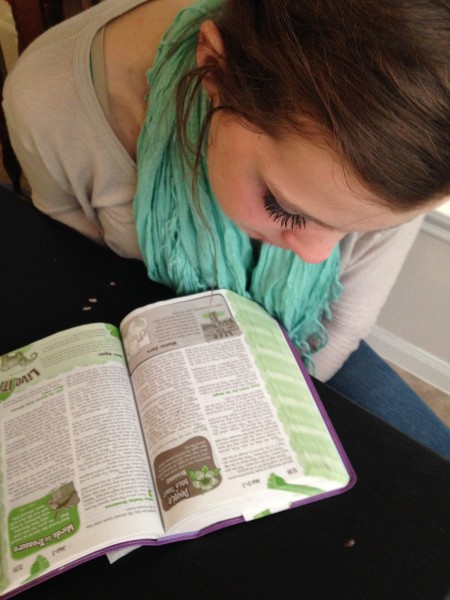 There are icebreakers, reading passages, occasional memory verses and a corporate prayer to say together. And very cute unique prints are included at the end of the ebook to frame and hang: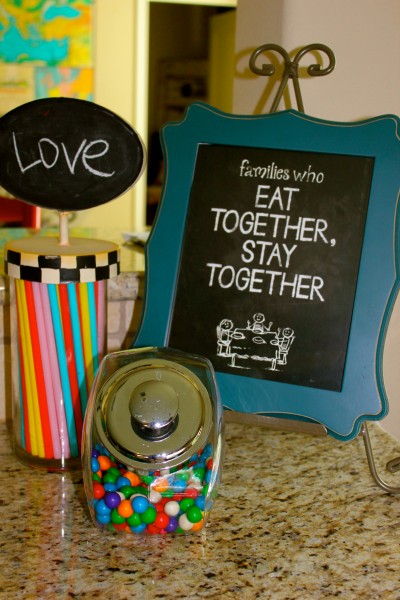 And this brand new ebook is free with your pre-order purchase of Rhinestone Jesus today!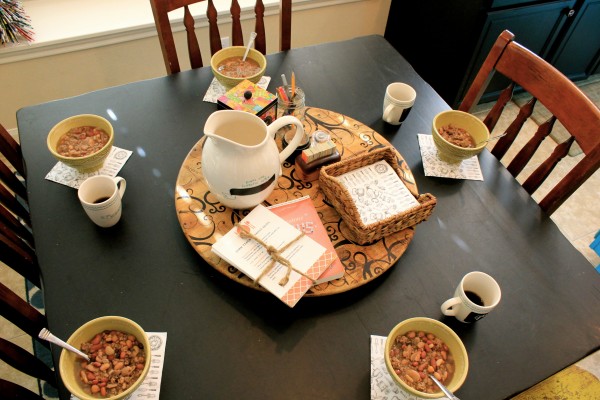 If you buy 2 copies of the book, along with the family ebook, you'll also get the very popular and meaningful Love Mercy Prayer Bracelet. While everyone's yes to God is different, our family's yes looks like Mercy House.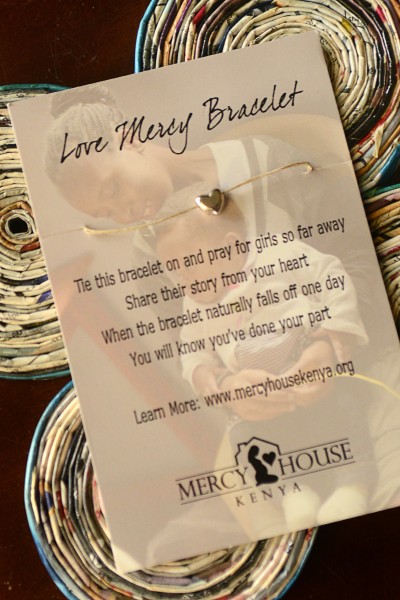 And we can only accomplish this great endeavor through prayer. It's mostly a reminder to pray for the most oppressed people group in the world: girls.
And I've partnered with my longtime friend and generous supporter, The Vintage Pearl. There are a limited supply of these gorgeous "rhinestone" Jesus necklaces that would make a beautiful gift to keep or give for those who buy 4 or more copies of the book to share with family and friends.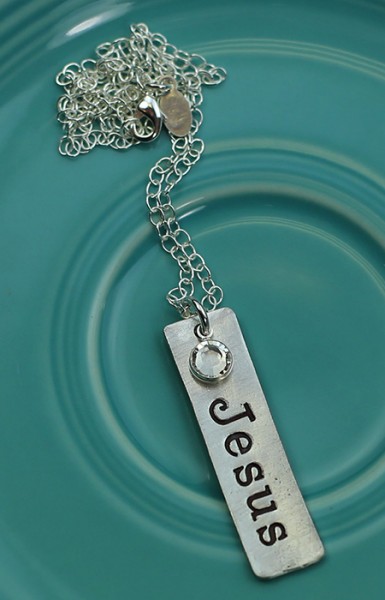 I wrote this book out of obedience to Jesus. And these words are for his glory. 
I used to live my life, trying to fit him into the gaps and small spaces. But when I began to fit my life into Jesus–that's when I really started living.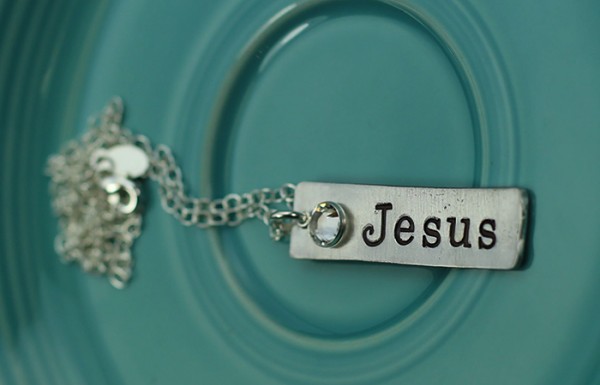 Just to recap this special pre-offer: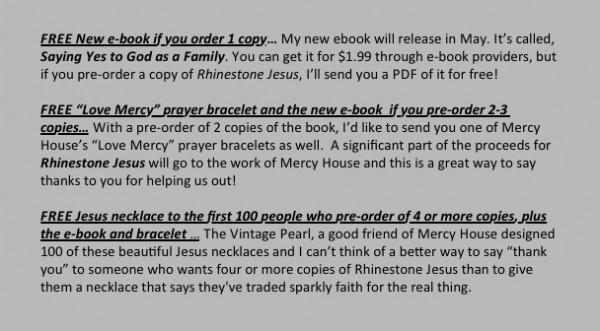 Plus part of the proceeds from every book will go to the work of Mercy House.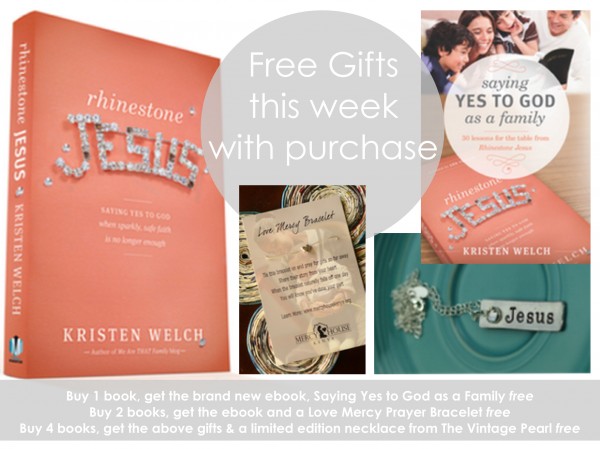 To receive your free gifts in the next couple of weeks, just follow these simple steps:
1.       Pre-order Rhinestone Jesus from any book retailer.   Amazon, Barnes & Noble or Christianbook.com
2.       Email your receipt to giveaways@tyndale.com. If you've already preordered it, you can send your order confirmation. (No links, please. This can be an order confirmation email, a pre-order cash register receipt or a screenshot of your order. If you want to send a photo of the receipt, please attach it to the email as a .jpg file.)
3.       In the email, tell me your name, email address you want the e-book PDF sent to, and mailing address—so we can send you all of these great gifts!  (United States residents only). This pre-order offer ends May 1, 2014.
And most of all, thanks for being a part of my yes to God.