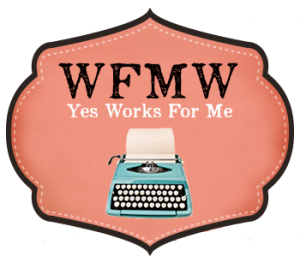 I'm happy to welcome this week's guest post from LeeAnn for my Wednesday series 
Yes, Works For Me!
 Please welcome her and be encouraged by her yes to God and continue to link up what works for you.
Snuggled in our king-sized bed under mounds of fluffy down feathers, sleep overtook me as I waited for my husband to come home from a late night meeting at the church we helped plant less than four years prior. As a pastor on staff, his days and nights were filled with meetings, ministry, and more meetings. Our marriage and family life were struggling under the weight of expectations and other challenges of ministry life. His heavy footsteps treading down the hall woke me and the words, "I think I'm going to resign" came gently tumbling out of his mouth.

In one night, my comfortable identify as a pastor's wife in the church we loved came crashing down.
In the months ahead, I followed my husband into uncharted, uncertain territory as he moved from a steady (albeit small) church ministry salary to launching his own pastoral life coaching business and ministry. It didn't take long to see God's hand of favor in the one-on-one interactions he had on a daily basis, and my husband's faith moved him to try audacious things as a new small business owner.
But I was scared.
Our tiny emergency fund wasn't even the amount of one month's salary and everyone knows starting your own business isn't a recipe for quick financial success. My full time income alone wasn't enough to meet our basic household financial obligations.
"Deep down I knew God was calling us to something radical," writes Kristen Welch in Rhinestone Jesus. "And even though radical terrified me, I was more afraid of not following God."
As his wife, I desperately wanted to support my husband in this new opportunity as he ministered to those who would never step foot in the door of a church but who would listen to godly wisdom shared in the context of creating goals and breaking down life's hurdles.
His faith was contagious and it prompted my journey from a fear-based religion to a faith-based relationship with Jehovah Jireh, our Provider.
After two years of struggling financially when every month we have more bills than income, we have watched month after month God provide in large and small ways for our needs.
My husband's new office needed painting? One of his first clients gave him a gift card to a paint store and friends provided the labor.
The kids needed pajamas? Old Navy had their exact sizes on clearance for $0.47. (No, that's not a typo…less than a dollar each!)
No money for gas or groceries one month? A client gave me a card and $400 in cash with a note encouraging me as the wife of a world-changer…she knew it was hard and wanted to encourage me to continue to follow my husband as he pursued God's call for his life.

The mortgage payment in jeopardy of not being paid on time? Without knowing the need, a friend gave us a check that more than covered the payment.

Christmas coming up and no money for gifts or extras? A family gave us $200 and told us to enjoy the holiday.
There are so many more examples of God's faithfulness and provision through this time. We have learned that remembering God's past faithfulness is the key to moving forward in bold faith.
Saying "yes" to God even in the midst of uncertainty has proven to be the greatest blessing. While I still at times struggle with fear as our financial situation each month is filled with unknowns, I am learning that "our need cannot be bigger than God's provision." (Gary Morland)
As we continue to say "yes," He continues to provide for our needs, one day at a time.
Bio:

Growing up all along the east coast in a military family, LeeAnn Taylor has settled in North Carolina with her husband Chuck and two spunky kids, Salem and Sekaiah (with one more on the way!). She's learned that living out the Christian life authentically requires daily submitting the pieces of our broken lives to God, the Ultimate Artist, allowing him to craft them into a beautiful mosaic masterpiece that can be used for His glory. She writes at The Mosaic Life about the journey of releasing fear & control, living intentionally, and embracing the freedom of Christ.