I'm happy to welcome this week's guest post from Tanya for my Wednesday series 
Yes, Works For Me!
 Please welcome her and be encouraged by her yes to God and continue to link up what works for you.
I sat across the desk from a caseworker who asked if I would care for my friend's child. My friend and her husband had made some decisions that compromised their health. While they worked to regain their well-being, their child needed a home.
In the span of moments, I breathed a prayer while dialing my husband. I explained to him the decision we needed to make in the next 60 seconds. He says, "What do you want to do? I'll back you up, either way."
I said, "I think we are supposed to do this. Our friends need to see "Jesus with skin on" because they have been lost in a dark, dark place. They need to see the light of Christ standing in the gap, not just someone spouting "I'll pray for you" platitudes." My husband agreed.
Kristen says, "There were times it was downright scary and it didn't feel safe.
Saying yes will cost you something. It will challenge and stretch you."
I gathered up all of my courage and told the caseworker, "Okay. We'll keep him."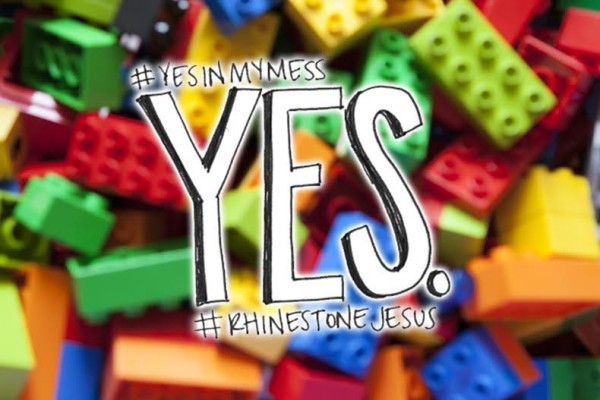 Those words were my yes. I knew my yes would change things for the toddler we would care for. But I didn't know my yes would change me, change my husband, change my children – for the better. Those words helped all of us step out of our comfortable, self-absorbed, self-centered, self-entitled suburban way of life.
As Kristen said, "This journey has taught me so much about my family." In the months since we said yes, our family has lost much. We've lost hours of sleep. We've lost a sippy cup and diaper-free household. We've lost a few date nights. We've lost carefree, lazy weekends. We've lost family vacations.
However, when compared, we have gained so much more. We've gained hours of laughter and giggles. We've gained an energetic routine. We've gained a little firecracker that keeps us on our toes. We've gained the wonder of seeing the world through the eyes of a toddler. We've gained a common goal that allows us to work together as a family to help others. We've gained the knowledge that God gives us what we need, when we ask him for it.
Occasionally, we forget how all of this started. We start worrying about details. We worry about how all of this will turn out in the end. We worry his parents won't get better and that he will become a ward of the state. And truthfully, some days we worry they will get better and the daily noise and chaos we have come to enjoy will fade away. We worry about what his life and our life will be like when he returns home. We worry about the things we can't control.
"But here's the deal: when God is in it,
He doesn't need us to control a thing."
Kristen Welch, Rhinestone Jesus.
In those moments when we forget, God always finds a way to remind us. He is present. He knows about it all. He's in control. He reminds us that our job is to trust him and to obey his call – all we have to do is say yes.
Author Bio: Tanya Ehrler is a wife and mother. She spends her days homeschooling her two boys, and tries to live out her life's motto: Love God, Serve Others, Show the Way.
Tanya blogs at Truly, TexasTanya and writes about family, homeschooling, adoption, foster care, photography and her occasional dabbling in the kitchen.
____________________