I'm happy to introduce you to this week's guest poster Jennifer for my Wednesday series 
Yes, Works For Me!
 Please welcome her and be encouraged by her yes to God and continue to link up what works for you.
When I said "Yes!" to my younger daughter's life, refusing to discuss termination with my doctor, I had no idea what that would mean. All indications were, despite the doctor's fears, that our daughter was just fine. Later we realized that she does, indeed, have medical and neurodevelopmental issues, and she is a struggling learner too. All of this information has come to us little by little, although we realized at birth that she was a bit different.
I had no idea that saying yes to my daughter's life would mean an entirely different life for our family—other than the changes that come with adding another family member to our household. I had no idea that, nine years later, therapy sessions and evaluations, behavioral therapy sessions, specialist appointments, and weekly immunoglobulin infusions would be "normal" for us.
Saying yes to our daughter's life also meant that my dreams for my writing changed. God's plans were entirely different from my own. He has gradually opened up an entire speaking and writing ministry to families of children with special needs. He's very serious about 2 Corinthians 1:4. He never wastes a single hard thing in our lives.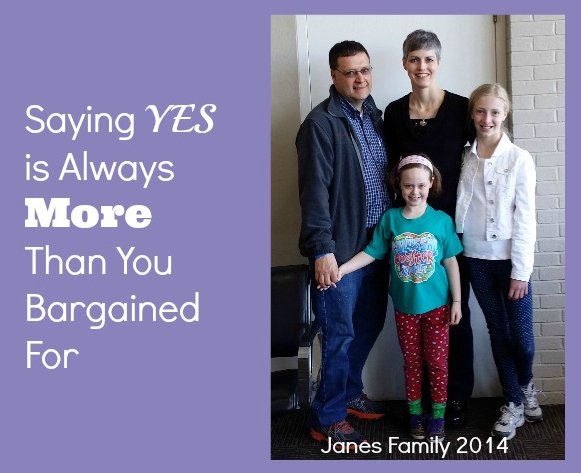 But saying yes also brought other changes to our lives that I didn't expect. I never dreamed that I would rejoice over my child making eye contact for longer than a few seconds at a time. I never imagined that we would all get excited about our daughter wearing a different type of clothing or trying a different type of food. I didn't expect to smell everything I come into contact with, trying to imitate her behavior and experience the world similar to the way she does. I never dreamed I would sit next to her almost every day for years, watching her persevere at the learning that comes so hard to her, watching her struggle, and then finally hearing her read a few words fluently.
I never dreamed that I could be so in love with a child whose future is so uncertain. I never imagined that God would give me an even clearer picture of His love for me in all my struggles and imperfections through this child He blessed me with.
I didn't expect to grow even closer to God as I dropped to my knees over and over again, asking for wisdom to raise this child, asking for help to pay for the things she needs, asking for favor with therapy facilities, specialists, and insurance companies. I didn't expect to be so comforted in the good times and bad, knowing that He's walking alongside me.
I didn't expect to see His miracles in my family's life, over and over again. I didn't expect my daughter's struggles to cause both of my daughters to develop character traits and a dependence on God that will serve them well for the rest of their lives—and I can't wait to see how He uses all of this to bless others.
And while I wonder about the future and what God might do between now and then, He makes sure that we're filled with joy, even during the hard times. My precious daughter adds so much love and laughter to our lives. Like this morning, while we were doing her math lesson, I asked her to write the numbers 35 to 100, counting by fives. She looked at me and said, "To 100? Doesn't that seem a little extreme?" After I insisted she could do it, she proceeded to count by fives to 110. So there.
Saying YES to God is a scary but exhilarating thing to do. No matter what your YES is or where it leads you, you can be sure it will be more than you bargained for!
Bio: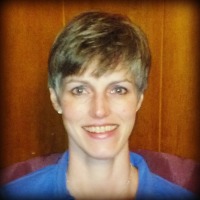 Jennifer Janes lives in Arkansas with her husband and two daughters. She enjoys reading, writing, speaking, drinking iced tea, crocheting, using blue ink when she writes longhand, and spending time with friends and family. She writes about faith, family, and parenting and homeschooling a child with special needs on her blog, Jennifer A. Janes.