I'm happy to introduce you to this week's guest poster, Kayla for my Wednesday series 
Yes, Works For Me!
 Please welcome her and be encouraged by her yes to God and continue to link up what works for you.
Sometimes I stare at a blank screen and a blinking cursor and think that I just want to shut this whole thing down. I mean, there are so many bigger stories, ones belonging to better storytellers.
Plus, there is just so much to do today. Like laundry. And mopping. I don't even remember the last time I mopped. Please don't look at my floors if you come over, that is what I am saying.
(Maybe don't look in the laundry room either. Just stare straight into my eyes to be safe.)
So most mornings the cursor is blinking at me and I take a deep drink of coffee because it is so early that the sun has yet to break over the hills and I start typing.
Because this is what I have said yes to.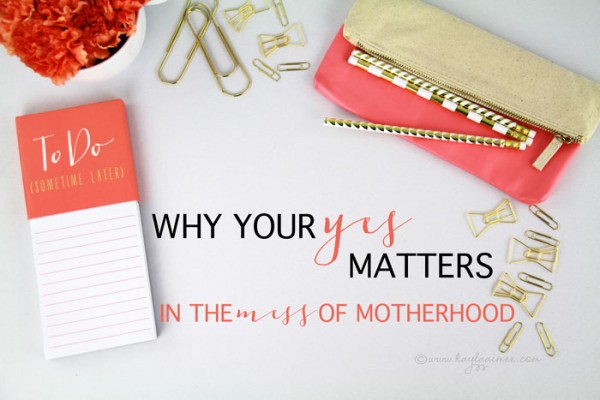 Motherhood is messy time to say yes to pursuing your own passions.
(That's not even a metaphor, there is literally an explosion of silly string in my living room right now.)
(Why do we even own silly string? I feel as though this was not our best idea ever.)
And this thing that I love to do, this little bit of writing that ministers to my heart and in it's own small sphere, it feels sometimes superfluous in the midst of all the other things that need to get done around here. It would be easy to let it go in the middle of the mess, to say that there is no time for this because there is just never enough time, is there?
There are carpools and appointments and dinner that is currently burning in the oven on account of how I forgot about it while trying to remove silly string from the couch.
(And the dog.)
And sometimes it feels like it isn't worth it to say yes to this dream that was God-bourne in my heart because maybe it matters less than all of the pressing things on the never-ending to-do list.
But every day I push that stray piece of hair back behind her ear, the one that always falls down in front of her wide gray eyes, and I tell her about God's love. And I will tell her to chase hard after God-sized dreams. I will tell her the ways that He has gifted each one of us and how beautiful it is to follow dreams and share those gifts in community.
I want her to see me believe it.
I want her to see me live it.
We are all bestowed with something with something wild and precious.
Kristen unclipped a Rhinestone Jesus pin and said yes to building a home halfway around the world and her children watched.
I trembled and said yes to binding these words and the inscription bears the words "for my daughter.
This yes is my calling and it is intricately entwined with my motherhood.
What is your yes?
Because whatever it is, it matters.
BIO: Kayla Aimee is a writer, mother and slightly spirited southern girl who spends her days uncovering hope and humor in unexpected places. She makes her home and garden in northern Georgia with her husband and toddler. Kayla shares stories of faith, family and her favorite and her first book releases with B&H publishing in Summer 2015