I'm happy to introduce you to this week's guest poster Julie for my Wednesday series 
Yes, Works For Me!
 Please welcome her and be encouraged by her yes to God and continue to link up what works for you.
A couple of years ago, I had a big, ugly argument with a friend from our church. It took the wind out of my sails. I was so angry and sad, I spent several days in prayer. I remember praying to God while running the vacuum and asking Him to let me know if I was wrong. I wanted to do something. Make a phone call. Stomp my foot. Kick. Scream. Something? Anything! Instead, I discussed the situation with my husband. And then, I waited.
The next night, I was awakened from a sound sleep. I can't describe it, but I can tell you that it had never happened before and it has never happened since. The split second I came out of sleep, it was as if I audibly heard the words: Exodus. And fourteen.
I got out of bed, grabbed my Bible and went into the bathroom, eager to check out this chapter.
As I opened my Bible, I sat down on the toilet lid and wondered if I had lost my mind. I couldn't remember ever reading the entire book of Exodus, but I remembered that it was in Exodus that Moses led the Israelites out of slavery. What does slavery have to do with my current situation, Lord? I had never experienced "that still small voice" that I had heard about in the small Baptist church that I grew up in, but, I also had no other explanation for the words that I heard as clear as if they had been spoken to me.
And to this day, I still don't.
Exodus 14.
As I read through the first several verses, nothing really stuck out to me.
But then I came to verse fourteen.
"The Lord will fight for you; you need only to be still."
I sat in awe.
So many times over the past few days I had wanted to act.
To react.
To be heard.
To say something.
To spout off.
But now?
I knew better.
It was if the Lord himself had spoken to me and said, "Girl, shut your mouth and listen."
Do you know how hard it is for me to be still?
I mean, really still?
When you're as mouthy as me, saying YES to God when he says, "Will you be still?" is tough.
But this time, I knew that being still is exactly what I needed to do because I had asked God to show me His will for my life. He wanted me to be still, so that I could be fully aware of His presence.
I am confident that "the big, ugly argument" was not about me or my friend, rather, this particular situation was simply about me saying YES, I trust You, Lord.
Fast forward several years later.
I received a call from someone very special whom I had spent years praying for. I had prayed that the Lord would soften his heart and that he would be back in my life. On this day, it was his voice that I heard on the other end of the telephone line and he was asking if I would pick him (and his friend) up at the bus station in our town. (He lives three states away). As it turns out, this very special person was in need.
My first reaction was anger.
I mean, who does that?
Who just arrives at a bus station unannounced needing a job, a car and a place to stay?
My next reaction was sadness.
How does one end up in a position of having nothing except a couple of trash bags full of necessities?
And my next reaction was, What the heck do we do, now?
My husband and I had talked at length about purchasing them a return bus ticket home. It would cost us a few hundred dollars, but they'd be out of our home and out of our everyday lives. I had contacted shelters in their area and was stunned to find out that you can't just show up at a homeless shelter and stay here. There is an application process and even if you get accepted, in many cases, there is also a waiting list. How was I going to fix this?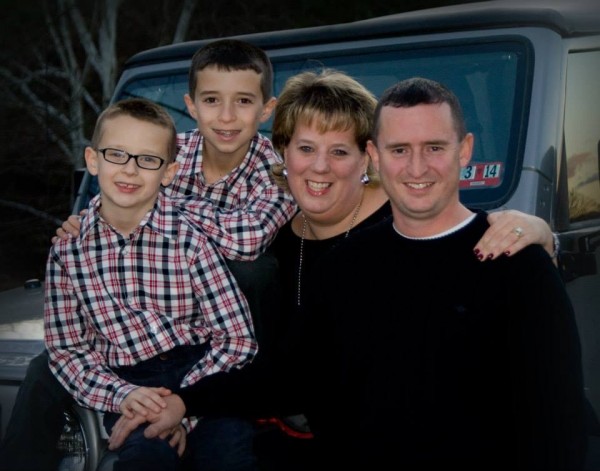 I am a stay-at-home-mom. I enjoy the peace and quiet in my home while the boys are at school and my husband is at work. When we are all home, I enjoy our band of four being together. Our home is organized and I like everything to run smoothly. In a matter of minutes, the pretty wrapping paper had been ripped wide open on my simple, neat, organized life package. Its contents – now vulnerable and exposed – seemed out of my control.
Out of my control. 
That's hard for a control freak to grasp.
"But here's the deal" when God is in it, He doesn't need us to control a thing." Rhinestone Jesus.
After three days of having unexpected guests in our home, I pulled into McDonalds for breakfast. Sitting alone at that table, I prayed to the Lord, and I said, "Lord, please show me what we're supposed to do. I don't have peace about this situation. I want to feel your presence and know your peace."
Within five minutes of my prayer, a McDonald's employee was sweeping the floor just behind me. A customer, on the way to a table, shared this exchange with the employee.
Customer: Hey, how's it going?
Employee: I'm ok. A lot better than I was doing. It's been a rough couple of weeks. My mother-in-law has been staying with us and we finally kicked her out last night.
Customer: Where did she go?
Employee: I don't know. She's homeless. I don't really care. I just knew she wasn't staying with us one more day.
Customer: Well, you know the Bible says, "If your enemy is hungry, and you have food, you should feed them. And if he's thirsty and you have drink, you should give them something to drink." 
The conversation continued, but I had heard the words the Lord wanted me to hear loud. And clear.
You see, when we seek God and His will for our lives, we should be ready when He answers. It might be messy. It might be hard. But He will meet you there.
In the first situation, I had worked up several scenarios in my head. All of which included me flying off the handle and handling things in my way. And quite honestly, that's the way I was used to doing things. I have a horrible temper (just being honest!) and it is a chore keeping my crazy reigned in. Had I reacted the way I wanted to, I would have felt good for about forty seconds. And then, I would've spent Lord knows how long regretting my words and pleading for forgiveness, both from Christ and from my friend.
In this most recent situation, the easy thing to do would have been to spend a couple hundred dollars on two bus tickets, pack them a lunch and send them packing. And in doing so, I would've regained the privacy and peace in my home. But you see, there wouldn't have been peace in my heart.
Saying "yes" is never about us. It is acknowledging that God's plan is not our plan. It is trusting that He will turn our big, ugly MESS into a MESSage of grace, mercy, forgiveness and love. He is present. He is in control. And He sees the big picture, as messy as it may be.
Saying yes isn't really about doing it all. It's about saying yes right where you are. It may seem small or insignificant, but any ime you love someone or care for another person's needs, you're changing their world, and yours, too. It's about looking up from your everyday life and seeing opportunities around you to make a difference. It's about loving others as we are loved." – Rhinestone Jesus.
Sometimes, saying YES in our mess is as simple as saying Yes, Lord, I will listen. I will seek. I will follow. I will trust.
BIO: Julie McCollam lives in West Virginia with her husband and two young sons, Stevie and Alex.Before becoming a stay-at-home-mom (who rarely stays at home) she spent eight hours a day in jail, counseling inmates. She traded her handcuffs for Nerf guns and serves up a daily dose of crazy at From Inmates To Playdates where she writes about her family, her faith, domestic duties, the daily DVR docket and of course, her time in jail.