Last week I had lunch with two women from Azerbaijan, an oil-rich, but oppressive country situated at the crossroads of Eastern Europe and Western Asia.
They have heartbreaking, but hopeful stories and use their testimonies to work with women who are escaping violence and oppression in the Middle East. We talked about partnering together.
It was humbling to sit with these former Muslim women who daily risk their lives to follow Jesus.
It made me want to live differently, so I can give differently. 
With the gift-giving season around the corner, I want to encourage you to think and shop differently this year. Dad doesn't want another tie and mom has enough cardigans. For the same amount of money, you can give a unique gift and change someone's world.
Here are three ways to give differently this season:
1. Give a gift in someone's name:
Rehema House Gift Catalog-Mercy House supports impoverished moms and babies at Rehema House in Kenya. Not only can you impact lives in Kenya, you can also do so in someone's name. For every gift you give, you can have an e-card sent to the person of your choice. [Gift options start at $10. For example, you can gift this for $10 in  your teen daughter's name and this for $50 in your grandma's name.]  It's an easy way to change the world. Check out the Gift Catalog here.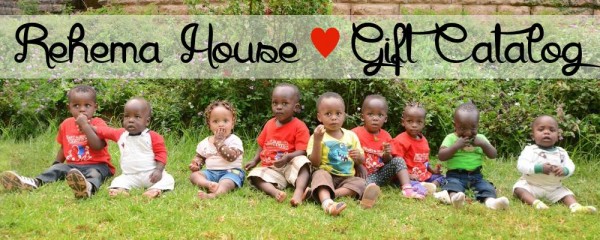 Compassion Gift Catalog-I love Compassion and I believe in what they do. I have seen their work behind the scenes in Kenya and elsewhere and they change lives.
2. Give a gift twice:
Fair Trade Friday-Fair Trade Friday is a fun monthly subscription club (with more than 500 members) that delivers 3-4 fair trade items to your door. The items are created by impoverished women all over the world who are supported by your purchase. Join the Club or give a Fair Trade Friday Gift Box to someone who's been extra good on your list. Get $5 off a one-time Fair Trade Friday gift box with this code:  5off 
The Refugee Project-Gorgeous hand knitted and crochet items are always on everyone's list! Every purchase benefits a refugee who has been relocated to the USA from a refugee camp, struggling to make ends meet in their new home. I spend my Friday's with these beautiful ladies.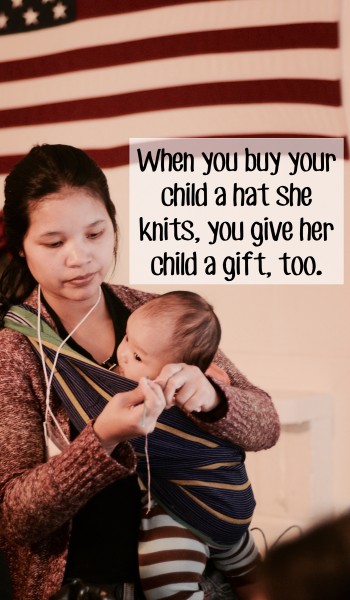 No. 41-When you buy a lovely sewn burlap and kitenge bag from Rwanda, it not only supports the young lady who created it after she's aged out of an orphanage, it also feeds one child, one meal, every day for one year.
Zambia Soap Company -THE PERFECT STOCKING STUFFER -Scented Organic Handmade Soaps and Lipbalms (Families harvest organically grown herbs. Workers distill the herbs to make essential oils for soap, while women widowed by the AIDS epidemic weave gift baskets and attach labels.all overseen by local Zambian churches)
3. Give a gift that provides for a future:
The Mercy Shop-A large percentage of every purchase from the Mercy Shop goes into an account for each of the Rehema House residents who created the items. After graduation, she will be able to use that money to provide school fees for her baby (while Mercy House continues to pay her school fees). So, every purchase helps provide for the future of the babies that Mercy House supports!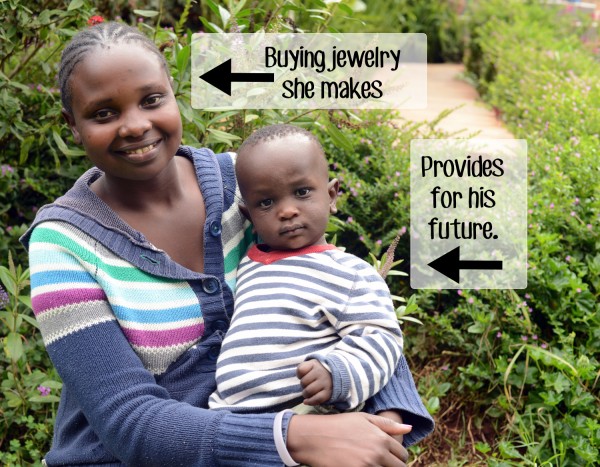 Caring for Korah– We believe in child sponsorship. We just added our 11th child to the family (besides 3 of our own). Our dear friends are saving lives in Ethiopia and you can give a child a future this Christmas.
Let's change Christmas this year.