I'll never forget the Christmas we gave too many gifts.
My kids were around 4 and 6 years old and it was like a marathon of toy-opening and we needed water breaks to get thru it.
I'm not even kidding.
Most of the gifts were sale or clearance items I'd bought all year and tucked away. It was the season of my life I refer to as "Quantity not Quality." It was all about more–more for me, more for them. It left us with a lot of stuff, including emptiness.
As I encouraged my weary kids to continue unwrapping that day, I looked around the room with torn paper and too many toys and I felt guilty.
From that point on, I decided to do Christmas differently-to make it about more with less.  Since then, we've limited Christmas to a handful of gifts. This might not be right for all families-I know some who do no gifts and some who do twenty, some who give what's needed, while other offer what's wanted. I don't think there's a right or wrong way, but I do think an intentional Christmas is a memorable one.
That's why we try and include a non-toy or experience gift.
Experience gifts come in all shapes and sizes-like music lessons or a special date with dad or a membership of some kind.
In the past, we've given musical instruments, day trips and memberships.
My oldest daughter is a flute player, loves music and would rather be marching in a band than doing just about anything else. She's getting tickets to see the best marching band in the country who will be touring our town this summer.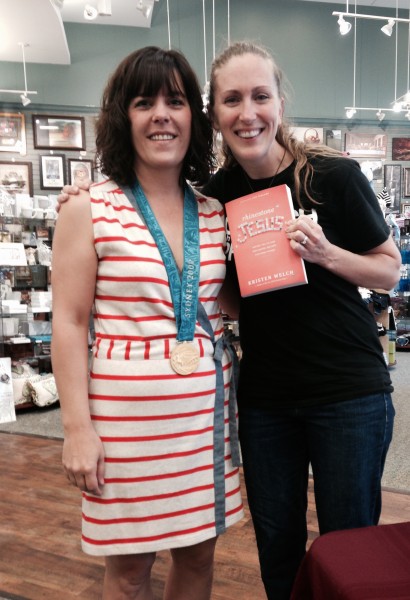 My son loves archery and he's getting a lesson from an Olympian along with a membership to Elite Access (that was given to us to review). Elite Access is a members-only online portal for athletes, coaches and parents featuring Olympians and World Champions who are sharing their secrets to success. This new resource was started by my friend Laura Wilkinson, gold medal Olympic diver and World Champion. (She let me wear her medal once). If you have an athlete, I highly recommend checking it out.
If you haven't completed your shopping list, consider thinking outside of the box and instead of adding more stuff under the tree, give your kids something that will last a lot longer-an experience they will remember.
————————————————–
Here are some great ideas:
60 gift ideas (that don't add more stuff to your lives)