I'm happy to introduce you to this week's guest poster, Rachel, for my Wednesday series 
Yes, Works For Me!
 Please welcome her and be encouraged by her yes to God and continue to link up what works for you.
Sometimes the life to which God calls us is not at all what we expected. It may not be what we would have chosen, and it may not even make sense to us. However, we can trust that it is what is best for us and that God will use it for His glory.
I have been chronically ill for many years. There isn't much that I can physically do, and some days I am tempted to wonder… "Wouldn't it be better if I were able to serve the Lord by cooking meals for my family? Wouldn't it be better if I were able to serve the Lord by teaching a women's Bible study or a children's Sunday school class? Wouldn't it be better if….?" But God has not called me to a life filled with energy and "doing." He has called me to a life of weakness.
Though there is much that I cannot do, I can serve the Lord in small ways that do not take a lot of energy. I can serve God through writing on my blog, through praying for others, and through encouraging my family. I can humbly submit to His plan for me, embracing this life and living a faithful testimony before a watching world. I can say "yes" to God in the midst of my chronic illness.
"Sometimes God's plans don't make sense to us. God never promises us that He won't give us more than we can handle; He promises we won't be alone." – Kristen Welch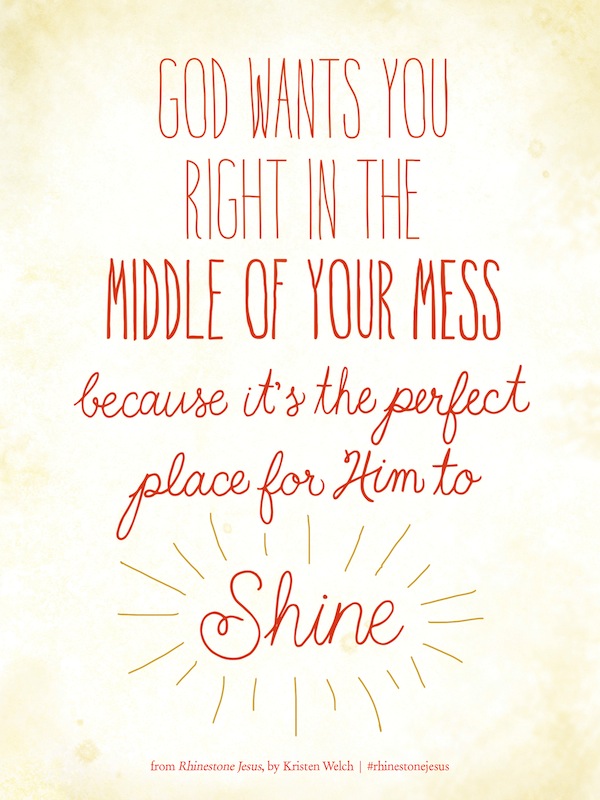 Saying "yes" to God in the midst of chronic illness is not always easy. There are many days when it feels like more than I can handle. And maybe that is the point. I cannot handle this life on my own. My weakness is a constant reminder of my need for God. My life, lived in weakness, is the perfect place for God's power to be displayed. Any spiritual strength or wisdom that others see in me is not from me; it is from the Lord.
"God wants us right in the middle of our mess because it is the perfect place for Him to shine through our imperfections." – Rhinestone Jesus, page 133
I am encouraged by 2 Corinthians 12:9-10: "But he said to me, 'My grace is sufficient for you, for my power is made perfect in weakness.' Therefore I will boast all the more gladly of my weaknesses, so that the power of Christ may rest upon me. For the sake of Christ, then, I am content with weaknesses, insults, hardships, persecutions, and calamities. For when I am weak, then I am strong" (ESV).
I am learning to embrace this life with all of its challenges. This is the life God has called me to, and He has a plan and a purpose for my chronic illness. I pray that I will be faithful to serve Him well so that He may be glorified in my weakness.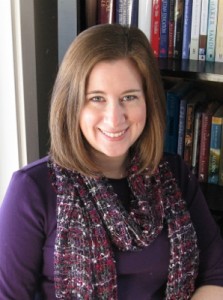 Rachel Lundy is a pastor's wife and stay-at-home mom. She lives with dysautonomia, a condition that leaves her mostly homebound. She writes at Cranberry Tea Time about life with a chronic illness and the hope and joy she has in Christ.