I had to make a hard parenting decision this week.
So, of course, I overthought it, wrung my hands in worry, and talked myself off and on the ledge. Because that's what I do.
For the past year, I've been planning a trip back to New York City with Mercy House to launch our fall wholesale line. Remember my panic attack on my first trip there? And a recap from this past February of what God did? It's an important trip for our non-profit and one that I've been excited to make.
I'm heading to Kenya with a team next week to teach what we plan to launch in NYC in August. I love this part of my job: birthing new ideas, creating jobs for women in poverty in a slum in Africa and then launching those items in a wholesale market. Honestly, it makes me feel like I'm changing the world.
This week I received the dates for when my daughter is leaving home and moving into her college dorm.
They are exactly at the same time.
For hours, I looked a flights and tried to juggle doing both. I told myself and my daughter I could get her packed up and ready to go the week before I left for NYC and then hurry home and drive her that night to her college campus two and half hours away. My daughter said she understood because she knows how amazing the wholesale market is and how important the event is to me.
But important events are never more important than people.
And after a couple of days of trying to convince myself that I could do it all, my gut wouldn't stop reminding them of these words from Mother Teresa: "If you want to change the world, go home and love your family."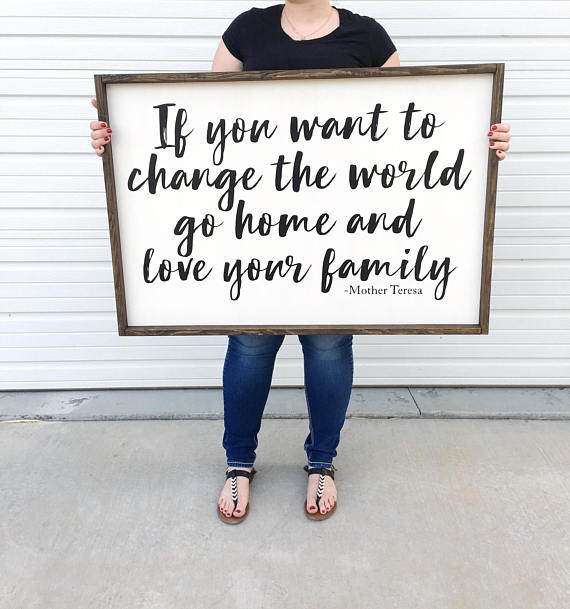 Sucker punch.
Sometimes you get to preach truth and other times you get to swallow it. And sometimes when you really want to change the world, you just need to go home and love your family.
When my daughter got home late from work one night this week, she came to my bedroom and sprawled across my bed. She was wiped out from six hours on her feet at her retail shift. I told her I wouldn't be heading to NYC after all for the wholesale market.
She shot up, "Why, Mom? You have to go!"
Oh my heart. I looked at my little world changer who has made more sacrifices than most teenagers her age and I felt so much compassion for her offer to lend me to Mercy House one more time.
"I'd rather be with you. I think we're going to need to the week to say goodbye and get you ready for your new adventure," I replied.
The look on her face made me feel like I was really changing the world.
And when we love our families well and really listen to their needs and respond the best way we know how? That's exactly what we are doing.
We don't need a trip across the ocean, a non-profit to lead, a trip to the Big Apple to remind us that we are changing the world.
We just need to go home and love our family.
There are about 100 free fair trade clutches left to claim if you pre-order my book! It's a $20 value (with the goodies inside!)