Nearly every morning this month, before the kids have woke up and the busyness of the day began, I've snuck to my back patio and started my day in my cozy, fair trade hammock chair that I got in this summer's Grace Case.
One day last week, as I relaxed in my chair and sipped delicious fair trade coffee out of my favorite fair trade mug, I balanced my fair trade leather journal on my legs. I looked down at my fair trade pajama pants and at the fair trade flower pot at my feet, then at my journal, mug, coffee, and chair and I couldn't stop the smile that spread across my face.
It's hard to describe the feelings that washed over me. Joy. Gratitude. Compassion.
I was proud. But it wasn't really pride that bubbled up. It was purpose.
In that one moment, I saw the culmination of a lot of small choices. I don't have a fair trade life because I have a lot of money. I have a fair trade life because one purchase at a time, I'm replacing the things I own with things that tell a story. I have become a shopper who shops with purpose.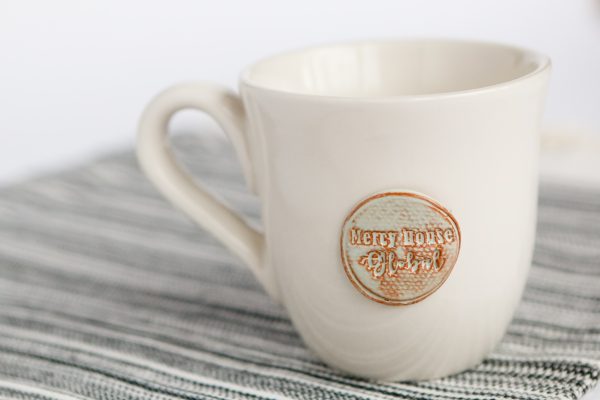 And here's the truth I've discovered: what we purchase changes who we are. I know who made my rugs and throw pillows, the baskets on my wall and blankets on my bed, the clothes in my closet and jewelry on my wrist. And they are more than just things in my house. They have changed me because they connect me with real people who have dignified jobs.
Ann Voskamp says, "Every blanket, every mat, every spoon, every plate — in every one of our homes — began somewhere in the world, was made by someone in the world, and somehow changed a bit of the world's story — for better or worse.

What if your home could tell a story of grace?

Grace given, grace received, grace passed forward and given again.

The welcome mats under our feet, the steaming mugs in our hands, the full bowls on our tables, could tell a grace story — a story of fair trade, a story of life change, a story of saving, Gospel grace. Stories that empower a sister, change the lives of a whole family, free another soul from darkness, offer the sheltering roof of amazing grace."
I have met so many women around the world who have no choices at all.  Sometimes they are forced to make desperate decisions because they have run out of options. I thought about how my purchases in the past only benefited me–the good deals I scored and the bargains that cost someone something. But now, I have beautiful handmade things that empower people, including me.
As the early morning breeze rocked me in my hammock, I thanked God for the privilege to choose the kind of shopper I want to be.
Today, I'm excited to tell you about some things that are both incredible deals that also benefit marginalized women! Mercy House Global's Summer Blowout, their biggest sale of the year, starts at midnight. It's the perfect chance to let your home and life tell a new story.