I got stuck in a shirt in a dressing room at a local thrift shop and with my arms up in the air, I actually thought about buying the dumb top because that seemed easier than escaping it. As I wriggled my way out of it, I reminded my middle-aged self that not all mediums are created equal.
I used to believe that not all moms were created equal, too. I wasn't like the other moms who had it all together. I showed up at bake sales with store bought treats and I was always the mom who was on her phone trying to solve a crisis overseas. I never felt present enough and struggled with guilt as a working mom.
I finally accepted that the way I mother is the way I mother and there is not an equation that makes one mom unequal to another.
Now, every time I see a young mother wrestling her kids into their carseats or juggling toddlers and a baby and a week's worth of groceries, I'm grateful I'm past that season. At least until I tell my teens they need to do their laundry, ground them or remind them to clean their rooms and then I really miss nap time. And cribs.
With one off at college and another applying, this season of life is strange. It's hard in a different kind of way. It's less physical and more emotional. When my girl calls me from college–I stop everything. Everything. I stalk her on social media and keep friending her college buddies. (I'm sorry, honey.)
The other day, my college gal was in town for just an hour on a Sunday morning. She texted "Want to grab a quick lunch before I have to leave again?" We turned the car away from church and drove nearly half an hour so we could all eat tacos together. I quickly snapped this picture of my three beautiful babies in the booth together.
On some hard days lately, each of us going through our own challenges, I have whispered to myself, to each of my kids, you are going to be okay.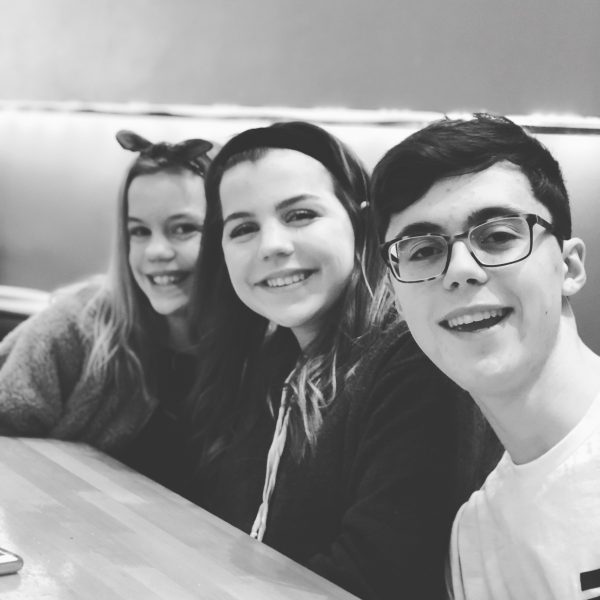 A while back, my husband was cleaning out his sock drawer and found an old Kindergarten picture of our son. I smiled at the memory of him in the red, white and blue collared polo shirt. I turned it over to read the date. It was taken ten years ago. My son grabbed it and said, "Mom, you dressed me like a dork."
Yes, yes I did.
I thought back to the mom I was fifteen years ago and one word came to mind: high-strung.  I worried constantly about everything. Sure, I had firmer arms and thought my 30's were way better than my 20's, but I was an overprotective and overreactive and overbearing– then my 40's happened and I got over it. If I could say anything to my mom-self fifteen years ago, it would be calm down. Take motherhood down a notch. Your kids are going to be okay. And so will you.
It won't be perfect and neither will you. But they will be okay.
The messy rooms and dirty floors, the store-bought cookies, the red ribbon weeks we ignored, the broken screen-time rules, the mediocre dinners, the okay preschools, the hand-me-downs and homework folders we didn't sign, the curriculum we chose, the colleges they choose, the broken hearts we can't mend–all these things we lose sleep over–they won't ruin our kids.
When we forget picture day and tooth fairy duties and the spelling test, when we are late for carline again or can't find the poop smell in the house or the missing hamster, when we make them wear too-small shoes one more day, when we say no, when we let our kids down–they will survive.
Often their disappointment and failure, sadness and anger isn't ruining them. It's growing them up. And, it's maturing you too. You're learning how to let go of what doesn't really matter. They will be okay. You want to know why? Because we keep showing up. It turns out, that's exactly what our kids need most. Moms that are there. Period. My seventeen year old son doesn't need me to solve his problems–he just wants me to walk with him through them. My tween doesn't need me to be everything, she just needs me to be present.
So, momma, take a deep breath and let it out. Let it go. You are doing just fine. Your kids are going to be okay.
There isn't an equation in the world that makes your mothering not add up. You are doing just fine. We will all be okay.