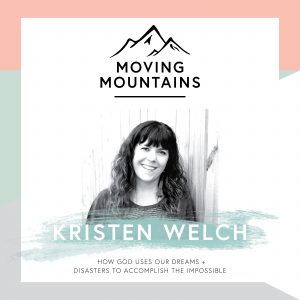 This is what I've learned. God moves some mountains miraculously. We stare down the impossible, and it stares right back at us. But then God casts it into the sea and makes a way where there wasn't. And some mountains God does not move. They are out in front of us—blocking our paths, obscuring our views, wearing us out. These mountains were created for us to climb.
Many days we face obstacles that weren't there the day before—and suddenly they are threatening us: a diagnosis, a disaster, discouraging news, depression, or despair. I've dug my feet into a few of these mountains this year, and I've spent a lot of time telling God about the mountains in front of me. Maybe you have too.
A couple of years ago, my family drove the eighteen long hours to Colorado until we got to the mountains my husband climbed as a boy. We were looking for a certain spot he and his father visited nearly forty years ago where they had built a small rock memorial and hid some coins. There was no reason behind it other than a dad and his son on an adventure, creating a memory. Terrell had told our kids the story about this little memorial for years, and he always wondered if it was still there. Terrell brought his dad along. They narrowed down the area with a fuzzy memory, and then we climbed.
And we climbed some more—huffing and puffing and panting our way to the top. We were discouraged when we couldn't find any trace of it. Everyone was disappointed, but a lot changes in forty years! We found a good spot and built our own pile of rocks so that our kids could bring their children to hunt for it maybe forty years from. We had learned that building memories and remembering them is half the journey. As we stood on the top of that mountain in the crisp air, I turned to look behind us. I was surprised at how high we had climbed.
It's a lot easier to see the top of one mountain from another. Some days, we need to look behind us to see how many mountains we've already scaled. It's too easy to forget that much of what we enjoy today is what we asked God for yesterday. When we reflect on what God has already done in our lives, our hearts, and our homes and we stop and praise him for it—our perspective changes everything.
The God who led us to the foot of the mountain is the same God who will lead us over it. Instead of telling God about the big mountain in front of us, let's tell the mountain about our big God.
Click below to continue to listen:
Podcast: Play in new window | Download
Subscribe: Android | Email | Google Podcasts | RSS