Catch up on part one and part two of this story.
I entered a crowded apartment and joined 60+ women (shoulder to shoulder) who removed their hijabs and danced their hearts out to celebrate an engagement of one of our refugee friends.
The whole thing felt like I was watching (and experiencing) a loud foreign film with missing subtitles as I tried to figure out what was going on during the night. Repeatedly, I was pulled onto the dance (living) room floor when an English song was played. They looked as confused as I did when I didn't know the American dance moves. We smiled until our cheeks ached.
More than once, I thought of the collective hardships, unthinkable loss, and trauma represented in the crowded room and how against all odds, these women would raise their children in the land of the free and home of the brave.
The diversity and language barrier and foreign customs and the incredible opportunity to mix our lives together —made me love my country even more. And it stirred up deep gratitude to God who invites us to simply live out the Gospel by loving our neighbors.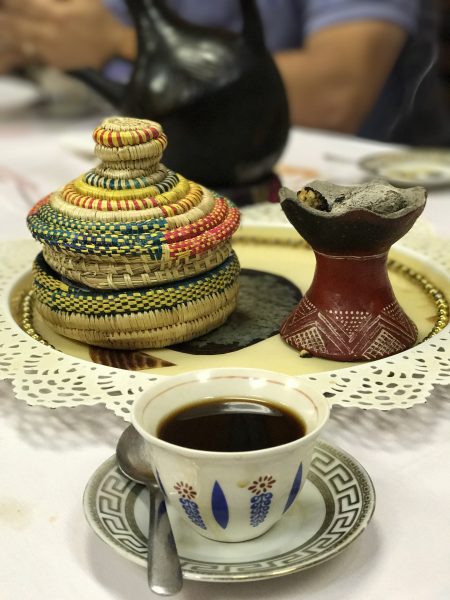 The bride danced with her groom in the middle of the room, the son and brother of my candle-making friends. We ate baklava and drank strong coffee and I thought of one of the only Arabic sayings I know, Baynatna khubz wa milah, which translates to say 'there is bread and salt between us'.
It means that although there is much strife in the world, there is an enduring bond between people who have sat and shared a meal together. I have a Syrian cookbook that sits open on my kitchen counter that bares this phrase as a title.  I have not only witnessed the truth of this saying from the name of a book— No, I am also living it.
Every week, my neighbors from around the world—Nepal, Syria, Iraq, Congo, resettled to Houston, insist we eat and drink together. Some weeks, I literally eat two lunches and four cups of chai and strong coffee. It's a hard job, but somebody has to do it.
In one of those homes, lives the chef I've told you about, who cooked for high end hotels for 30 years until he fled war and ended up in Houston last summer. We sip tiny cups of Arabic coffee, share our stories, work together with his wife and daughter to make fair trade items, but it's the salt and bread between us that has formed an enduring bond. We've been able to get him a handful of catering jobs and are working with him to get his food handling license in the USA.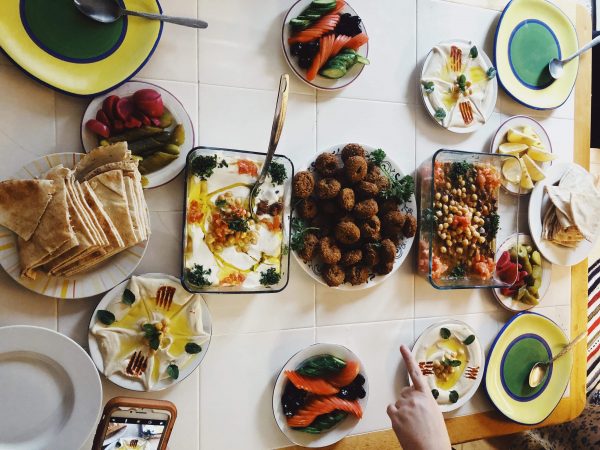 One Friday as my team and I drove home, bellies full, we dreamed out loud. Someone suggested a food truck that would allow our aging friend flexibility and opportunities. I couldn't stop thinking about this. Late that night, this was my Facebook status:
"Anyone want to help me and Mercy House buy a food truck so that all my incredible refugee friends can fix their AMAZING food all around Houston?! (I found an outfitted one for only $44,000 😬. I'm kidding. Sort of!) Mohammed (who made the food below) cooked for the Crown Prince of Saudi Arabia for 5 years. He's legit, but now he's starting completely over in the USA and struggles to pay rent for his family each month. I just can't believe I get to eat this food every week and I want to share it."
Within an hour, not only did we find a food truck, but it was given to us to use for FREE, as long as we need it. I cried and slept with a huge grin on my face that night.
It's like God is just waiting for us to step out in faith, to dream wild, to climb the mountain in front of us. We wonder if we are crazy or mistaken or both and God is simply waiting for us to take our first step up the mountain so He can reveal a stunning view.
So, yeah, sometimes the Gospel looks like a food truck, but it always looks like you and me taking the next step and letting God do the rest.
If you're local to Houston, you're invited to taste my friend's incredible Syrian food at a local Farmer's Market, hosted at Church Project on Feb. 29, 9am-1pm. I hope you'll join us by supporting this neighbor and enjoy the salt and bread between us.
I'm sharing these stories in preparation for my new book Made to Move Mountains: How God Uses Our Dreams and Disasters to Accomplish The Impossible. It releases two weeks from today! Pre-order it to receive some amazing free gifts (while supplies last).