"Okay, help me pick a family," I told my kids as we stood at the table at the back of the church and looked over the spreadsheets. Each one had several names and ages of children, with their shirt and shoe sizes listed. Next to each name was a single toy suggestion for Christmas. It's our church's annual version of an Angel Tree for needy children in our community.
As we looked over the families to "sponsor," I could hear my youngest read the items on the list. Barbie doll, she whispered, and with her finger she moved to the next name, Music CD.
"Mom, is this all they will get for Christmas?" she asked.
I could tell she was trying to understand need in her world of more than enough.
We finally chose 3 kids near the ages of mine who loved music. Three kids just like mine.
This time of year, there are so many opportunities to give something to someone in need. And I'm first in line. Angel Tree-yes; Food Pantry-count us in; Fair trade gifts that employ women, you bet, dropping of secret Santa gifts to a needy family-wouldn't miss it.
What better way to remind my kids–and myself–how much we have than by teaching them to share with those who have less?
Perspective changes Christmas. It not only shows us the needs of others, it shows us our need.
And with her finger pointing to a girl's name, just about her age, she asked, "Is this all she wants for Christmas?"
"No, honey. She wants much more than what's on that list. She and millions like her want one thing for Christmas:
They want to be remembered."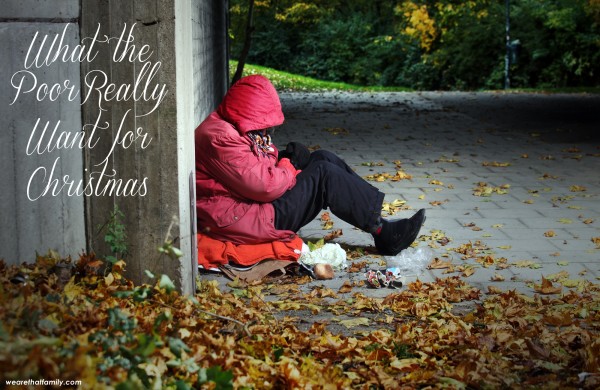 We live in a culture that lives in excess. We have so much and we want so much more. It's so easy to get sucked in and think everyone lives the way we do:  Everyone spends money decorating their homes, everyone bakes 8 varieties of holiday cookies, everyone gets the best cyber deals and everyone has the opportunity to make Christmas magical for their kids.
And it's easy to forget those who don't live like "everyone" else.
I love traditions and magical moments as much as the next person and I don't think we should necessarily forego or forget these special holiday moments. But at the same time, we must remember the poor. When we hang our stockings with care, we must not forget those hanging on by a thread. When we bake and eat treats and sweets, we must not forget those with empty stomachs. When we light up our tree and our house, we must not forget those who live in darkness.
And if we look around us, we will see the poor in our communities and across the globe.
This is real balanced living.
If we were all made rich alike, if God had given us all abundance, we should never know the value of his mercies, but he puts the poor side by side with us, to make their trials, like a dark shadow, set forth the brightness which he is pleased to give to us in temporal matters," Spurgeon said.
The poor don't want a handout this Christmas.
They don't want platitudes.
They don't want pity.
They just don't want us to forget them.
Because do you know what really happens when we take care of someone who cannot take care of themselves?
We see the face of God.
;
When we spend our lives remembering the poor, they aren't the only ones who receive a gift.
"Whoever gives to the poor will not want." -Proverbs 28:27
Challenge: From now until Christmas, buy in twos (one for your family, one for another). Give and give a little more. You won't be sorry.
This is Christmas.