"We need to find a place to serve."
I whispered these words to my husband, five days after Christmas.
He nodded his head. He could hear the kids arguing and nitpicking upstairs, too. Ah, Christmas break. Presents had been worn, plugged in and played with and a dose of perspective was next on the list.
Twenty-four hours later, we sat on a blue tarp in the inner-city of Houston with a bunch of kids at a Sidewalk Sunday School event.
It was so cold it didn't take long for children we didn't know to crawl into our laps and lean close for warmth. Terrell passed out the extra sweatshirts and throw blanket we keep in the car.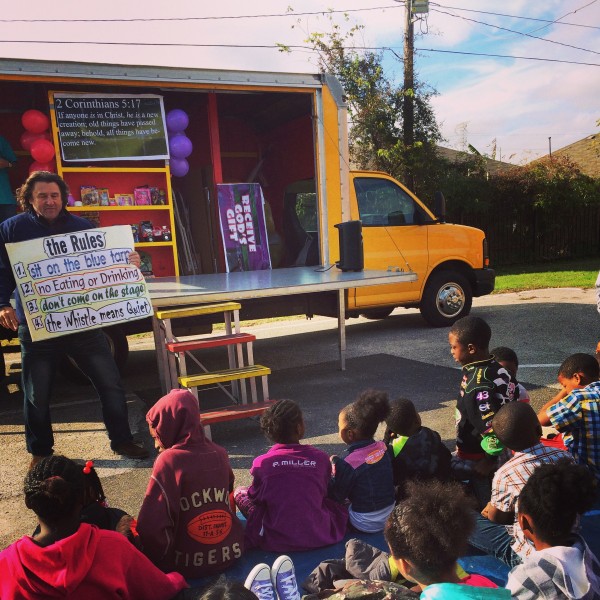 Pastor Scott, the faithful man who drives his colorful truck to low income apartment complexes nearly every day of the week to teach children about Jesus after school, told the children to sit still, listen close and cup their hands in their laps and open them for the blessing they were about to receive.
I looked over at my daughter sitting in-between girls she didn't know. I got a lump in my throat when I saw  her little hands cupped, waiting for her blessing.
I'm pretty sure she was hoping to catch the small toys and candy in her open hands like the rest of the kids. And I couldn't blame her really.
But when she leaned over and whispered, "If I catch anything, I'm going to give it away to the other kids," I wanted to shout yes because looking around at her peers without shoes and coats, she could see her hands were already full.
She could see she already had everything she needs.
Perspective for the win, again.
I'm learning we need constant perspective reminders and by we, I mean, me.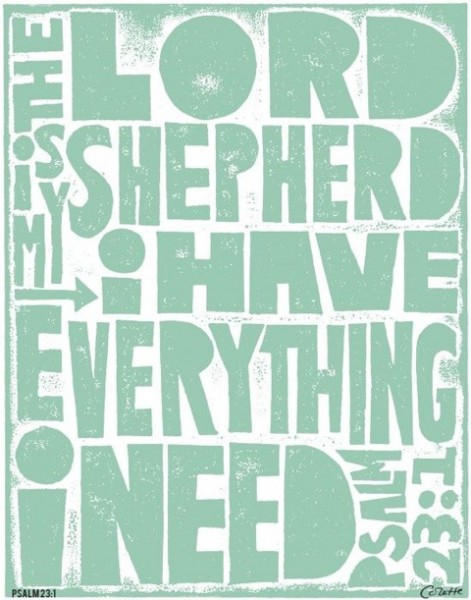 download this free printable here
Giving to others is s-l-o-w-l-y changing my family. We can't always feel it when we grow, until we turn around and see how far we've come.
Before the Bible story, Pastor Scott told the kids he had new backpacks for those who could recite all of Psalm 23. Hands shot up in the crowd and one by one we listened to precious children recite the life-changing verses.
I  blinked back tears listening to these disadvantaged quote verse after verse and I whispered prayers over them. God, provide what they need, be with them when they walk thru the valley of the shadow of death. Comfort them. Help them to know that goodness and mercy will follow them all the days of their life.
My son leaned over and said, "Mom, I don't even know Psalm 23."
I know. We are going to fix that.
My kids are advantaged and yet they need the truth of the words these children quoted over and over.
They need to be reminded the Lord is their shepherd and they have everything they need.
If you'd like to join us, we will be memorizing Psalm 23 together in the next few weeks.
Psalm 23 Family Project:
Week 1: Verse 1
1 The Lord is my shepherd;
    I have everything I need.
Write down needs that have been met in your family
Week 2: Verse 2
2 He lets me rest in fields of green grass
    and leads me to quiet pools of fresh water.
Take a day of rest with your family-unplug, go on a long walk, play worship music in your house.
Week 3: Verse 3
3 He gives me new strength.
He guides me in the right paths,
    as he has promised.
Talk about your family's journey- When has God guided your family?
Week 4: Verse 4
4 Even if I go through the deepest darkness,
    I will not be afraid, Lord,
    for you are with me.
Your shepherd's rod and staff protect me.
Comfort someone going through a dark time-with a card, a visit, a meal
Week 5: Verse 55
You prepare a banquet for me,
where all my enemies can see me;you welcome me as an honored guest and fill my cup to the brim.
Fix rice and beans for dinner for a week (or a month) and talk about the blessings on your table
Week 6: Verse 6
6 I know that your goodness and love will be with me all my life;
    and your house will be my home as long as I live.
Find a way to serve others: feed a meal, collect coats and blankets, change your children's perspective