This summer while we were hiking in the mountains one day during our sabbatical, my family wanted to keep climbing. I wanted to hide in the cleft of the rock. It was quiet and beautiful and I took a deep breath, stretched out my legs and rested while they kept going. That's when I saw the small opening in the rocks behind me. I bent down and peeked into the black hole and I was surprised to see bright green plants growing in the darkness.
I have thought about those little plants and their bad odds a hundred times since. It made think of these words I read once by Sandra King, "The tiny seed knew that in order to grow, it needed to be dropped in the dirt, covered in darkness, and struggle to reach the light."
Three weeks ago we got some unexpected news in our family that made the walls feel like they were closing in.
There have been some dark days since.
There have been some really good ones, too. I keep thinking that's how life is –a mixture of good and hard and I keep remembering that we really never know what people around us are going through.
This new chapter is still unfolding for our family and it holds stories I can't tell yet. Or maybe ever. But believe me when I say I know what it feels like to be buried.
I'm in over my head with fear and worry. I'm drowning in uncertainty. I'm full of hope. Some days I can see the light and I feel like everything will be okay. Other days, I'm clinging to Jesus in the darkness. But every day I believe with my whole heart that He redeems everything.
Rain falls in all of our lives-sometimes it's a fierce storm and sometimes it's a constant drizzle. But when the clouds cover and it gets dark and we try to get our footing at the base of another impossible mountain, we have to remember things aren't always as they appear. I love this truth:
Sometimes when you're in a dark place you think you've been buried, but you've actually been planted."-Christine Caine
I have found so much peace in these words the past couple of weeks. When life piles up around us and the darkness overcomes, maybe we aren't being buried. Maybe we are really being planted. Because that's how we grow.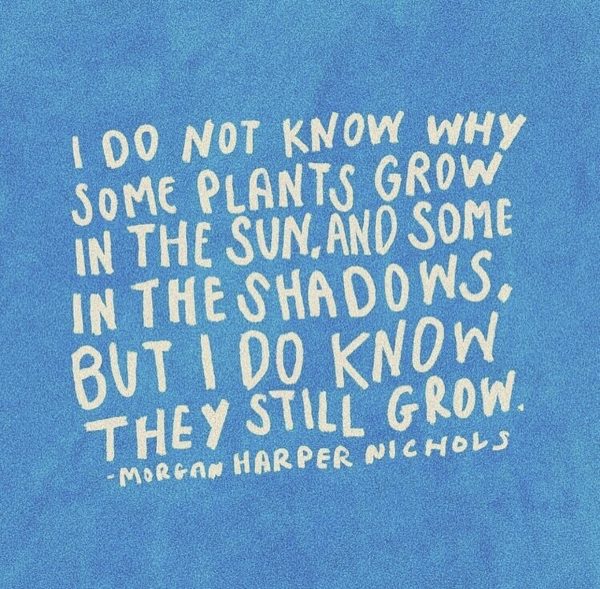 I don't know what you might be going through today. You might be in a season of light and mountaintops. I hope so. But if your view is unclear and darkness threatens your joy, know that when things look dark and hard and you can't find a way out, you are growing. And God is moving.