Inviting another culture into your life and home, makes you see your life and home differently.
When we had out-of-country guests from Africa staying with us in September, it was impossible not to see my life differently through their eyes.
When I put pumpkins on my front porch, there were confused looks (No, we won't be eating them. It's like a fall tradition.) When we sat and watched my daughter at her once-a-week tumbling class, there were comments and questions about opportunity and privilege (all true). When I complained about having to return my (supah nice) rental car for my 10 year old van that was in the shop getting repaired, there was a long sigh from the backseat (Bring your old van to Kenya, it's a very nice car there).
So. Yeah. Perspective.
I also couldn't help but watch and learn from my friends–not just those visiting, but every time I step into another country, I see other people's lives through my eyes. But over the years, I've also noticed a lot of differences in first and third world parenting. And while poverty or wealth, freedom or oppression influence how we do or don't parent, it's hard not to acknowledge that giving our kids less is often giving them more.  And giving them more, doesn't always make them want less.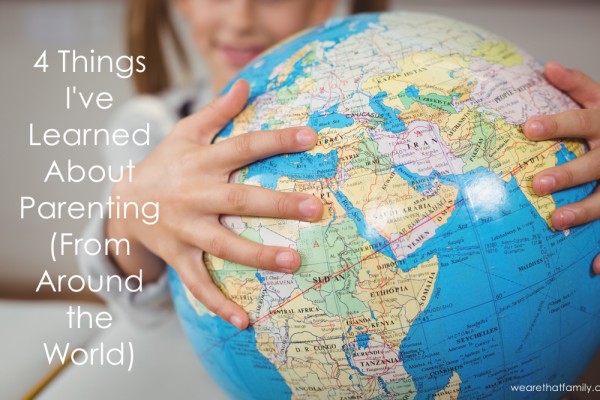 Here are things I've seen in cross-cultural parenting that are influencing the way I raise my kids:
Less stuff, more imagination | Without a doubt, this is one of the most obvious differences in other cultures. Kids don't have their own rooms or (often) beds or electronics. They don't have closets full of clothes or shelves with books and toys. I think that's to be expected in impoverished areas, but it was hard not to notice that it didn't stop kids from using their imagination. As a matter of fact, it seemed to cultivate it. They valued their small collection of clothes and books. They created toys and balls from sticks and plastic bags. They didn't have pocket technology and I think they are better for what they don't have than what they do.
More independence, less dependence | It's crazy to meet a mom who leaves early in the morning for work to roast peanuts on the side of the road because it's the best time to sell to the mob of people walking to work. She leave her baby with her 8 year old daughter and returns before she leaves for school. She repeats this when workers are returning home late in the afternoon. While we can't or wouldn't do this for obvious reasons, I'm amazed at the independence children have in other cultures. They run errands and contribute to the family at an early age. They often do it because there aren't any other options, but I've always noticed very little whining and complaining (something I tend to hear a lot of at my house). So, it leads me to believe that kids who are given independence and expected to help also learn to solve problems (or realize what real problems are). And that might just make them less dependent on us to fix all their problem.
More time outside means less time entertaining inside | I grew up in the 70's and 80's and I think we understood and celebrated this idea a lot more than we do now. Go outside. Go play. It was the mantra of my childhood and sometimes my parents and grandparents locked the backdoor so if I whined or complained, they never even knew. I survived it. I've noticed this isn't a new or old idea, it's a way of life in most cultures. It's good for our kids to make up games, to sweat, to understand that we don't exist to entertain them or fill their hours with something to do.
More focusing on what matters, less discontentment | Our culture is obsessed with things that don't really matter. It may sound harsh, but I think we all know it's true (and if you doubt it, just invite a third world family to stay with you for three weeks and explain your life). We have so many layers and conditions, so much convenience and comfort that sometimes we focus on the minor and we lose the major (without even realizing it). When we can teach our kids by our example how to focus on what really matters in this life–people and loving God and serving others, we create the perfect atmosphere for contentment.
No matter where I've gone, it's the one thing we have in common that touches me the most: we want the best for our children. And this motivates us to work hard, to sacrifice, to give them what we didn't have, or withhold what they don't need.  It may look different from house to house, but love is common ground.