B doesn't happen until A does.
It's advice I read in this dog-eared parenting book that I've kept next to my bed for years.
Last week A was "Do your chores."
B was "Hey, Mom, can I go to my friend's party?"
Ah, a parenting equation.
It was simple.
But it was hard.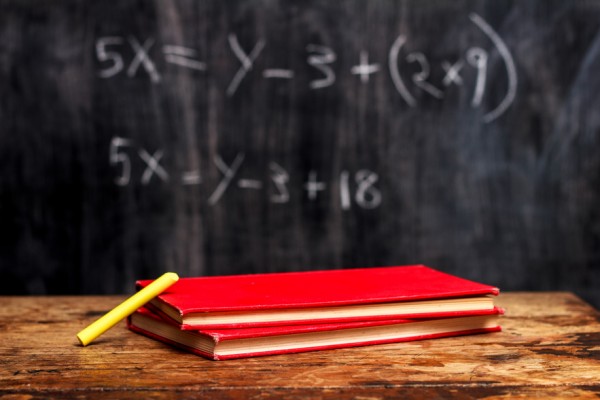 Because really, it wasn't about A, B or C; it was a battle of wills. Most parenting moments like these are about control. But I learned a long time ago, it's better to give our strong-willed kids the power of choice.
I'm not as hardcore as that worn book told me I should be. (Say it once and let the consequences fall where they may). No, I reminded and encouraged every time I walked past my child all day long. Because I wanted them to go to the party. I was in their corner cheering them on, "You can do it!"
But when it came down to it, there were two things working here: 1. My child simply didn't want to clean and 2, I'm pretty sure they didn't believe I would follow through on B.
And that's when it gets hard for those of us dishing out all those alphabet letters.
Because we've drawn a line in the sand and the ball is in our court: Will we follow through or will we give in?
As the clock ticked, the chores remained undone and my kid seemed to get more excited about the party. I wavered between being sad and mad. I reminded myself that this wasn't my choice. But I'd stood on this ledge before and I knew there wouldn't be any winners here.
I will spare you the gory details- but there wasn't a party and those chores finally were completed because someone understood that parents mean what they say.
But just between us, it will go down as one of my hardest parenting days.
I will also remember it as a good one.
Not because my kid lost something they really wanted. That was hard on both of us, but because they learned an important life truth: Choices have an effect on consequences in my life.
Oh, and momma means business.
Just look around at our culture, we have schools-from preschool to universities- filled with kids who didn't have consequences for their actions and they have a hard time functioning when natural ones are doled out for bad behavior and lack of good choices.
Standing our ground in parenting is hard. But it is so important. Because what we do now-when we give in too soon or too often, effects our kids for a very long time. They are pulling against us and the older they get, the harder they pull. We can't let go. We have to stand firm. Not because we're right or tough, but because this is
Because parenting the hard way is also parenting the good way.