"Please tell me it gets easier," she asked in the foyer at church while wrestling the baby in her arms and the toddler wrapped around her knees.
I smiled. And I remembered the long days and early bedtimes, the wrangling and chasing, the time outs and tantrums.
I've exchanged the physical exhaustion of motherhood with the emotional. I cry and pray and worry more over my kids now than I did when they would fit in my arms. A crib and gates and latches kept them close and safe. Now, the world is their playground and I can't keep them from getting hurt. Bandaids and momma kisses don't mend teenage angst or insecurities as easily.
When I looked into her weary face, longing to hear some encouragement, I knew some things were meant to be learned on our own.
"It gets different," I replied.
I thought of how their independence has allowed me some freedom to pursue my dreams, not to mention the sheer joy that comes with watching them experience the seasons of growing up and fall in love with what they are good at. I thought about their humor and sarcasm and how I thank God for the laughter every day. Oh, and glorious sleeping-in Saturday mornings cannot be underestimated.
"Every phase is hard and good," I continued.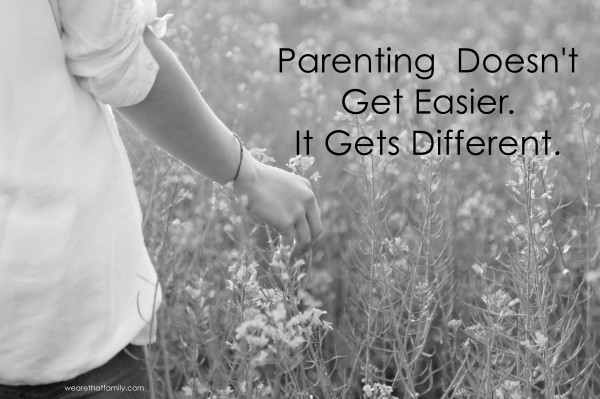 She adjusted her baby on her hip and sighed deep, "I just want to do something. . ." She didn't finish her thought, but I recognized the longing for something bigger, something important.
"You are," I responded gently.
Because the daily work matters. The foundation we lay when our children are young gives them a place to come back to.
I thought about my current season of parenting. I've watched my teens experience anxiety and some small bumps in the road in their self confidence this year. It's been little things in the scale of life, but nothing is small when you're a teenager. And it's been painful to watch at times and I've felt helpless.
And I've wept over their heartache. But mostly, I've pointed them to Jesus. Because He can mend what I cannot.
Last week I curled up next to my teen in bed and we talked and argued a bit and worked through something hard she was facing. I listened and I ached. I couldn't change the situation and I couldn't stop either of our tears. As I tried to encourage her, my words sounded like spiritual platitudes in my ears. I finally said, "Honey, I know it may sound simple and too spiritual, but all I can do is point you to Jesus. He is all I have. He is the only One who can carry your burden. He is the only One who can heal this place in your heart."
I left her room feeling like I had failed. Because as our kids grow, there are some things we cannot fix.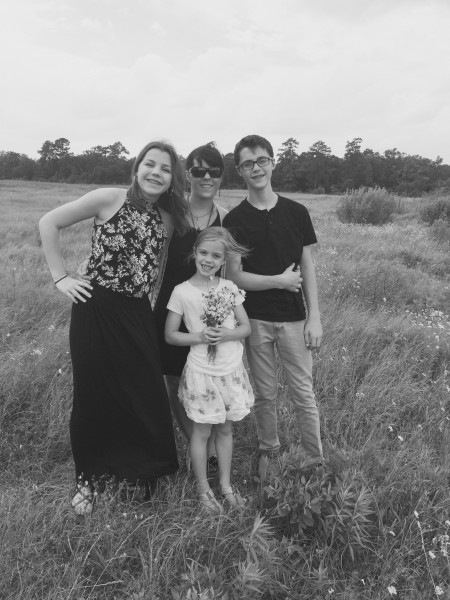 When I returned later to drop something off in her room, she was curled up next to her Bible listening to worship music. And even though she's taller than I am and mostly a woman, all I could see was that chubby-cheeked, dimpled-hand toddler running into her Father's arms so He could make it feel better.
So, yeah, moms, the exhausting physical wrangling and emotional wrestling and mundane work you do every day matters so much more than it seems. Every season has it's ups and downs and challenging days. But our faithful love and discipline is building a solid foundation and a soft place to land.
Mostly, it's pointing them to strong arms to run to.
And that makes different good.